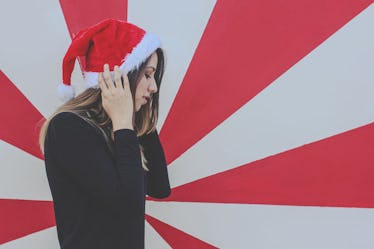 You Can Listen To Hallmark Channel's Holiday Radio Station For Free Until Christmas
It's the most wonderful time of the year. There's no doubt that the holiday season is for curling up on the couch and watching the Hallmark Channel's endless stream of festive movies. If you haven't had a chance to do that just yet, don't worry. The Hallmark Channel is making spirits bright once again this holiday season by bringing you all of your favorite holiday songs at no charge and you can listen right on your Amazon device. Here's how to stream Hallmark's Christmas Radio Station for free on your Alexa.
According to CordCuttersNews.com, you can listen to the Hallmark Channel's Christmas Radio Station for free until Tuesday, Dec. 25. The deal is offered through SiriusXM and is available to all Amazon Alexa owners, per Cord Cutters News. That's right. You can ask Alexa to play holiday jams straight from the Hallmark Channel — and it won't cost you a penny. Oh, what's even better? The 24/7 Hallmark Christmas Radio Station is hosted by none other than Candace Cameron Bure.
You don't need a SiriusXM subscription to take advantage of the free music. To access the complimentary Christmas music, you will need to download the SiriusXM app. When the app is done downloading, open it up and click "Watch and Listen Now" on the main screen. It's smooth sailing from there. Just use your Alexa app or ask your Amazon Echo device to play the Hallmark Channel on SiriusXM and you're good to go.
If you are at work or at the gym, basically anywhere that Alexa is not, you can also listen to the Hallmark Channel Radio directly on your phone by using the SiriusXM app. Also included in this amazing deal from SiriusXM are other holiday favorites like traditional holiday music and Christmas classics. Seriously, this is making all of my holiday dreams come true.
There are so many classic holiday songs that I can even begin to count them. According to SiriusXM, LeAnn Rimes, Holly Robinson Peete, Lacey Chabert, Danica McKellar, and Kellie Pickler will all make special appearances on the Hallmark Radio Station this Christmas season to introduce some of the season's best songs. Obviously, it wouldn't be Christmas without a little Mariah Carey "All I Want For Christmas" to liven things up. I'm also pretty into John Legend's A Legendary Christmas album. Finger's crossed Hallmark Channel will play some of my holiday faves.
Either way, Hallmark never disappoints, especially when it comes to the holidays. The Christmas radio station is the perfect background music for your upcoming festivities like that holiday party you are hosting or for Christmas morning. The channel is also great for easy listening when you are working hard wrapping those presents and filling your apartment with holiday cheer.
Whenever you get tired of listening to holiday music (because sometimes that happens), the Hallmark Channel is still here for you. This year, there are 36 new holiday movies added to the already amazing lineup of Hallmark Channel Christmas films.
Anyway, back to Hallmark Channel Radio. You can listen to your favorite holiday hits, free of charge, until Saturday, Dec. 25, according to Cord Cutters News. I'll be tuned in all season long, because nothing makes it feel more like the holidays than Christmas music.