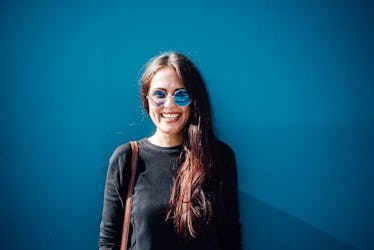 This Simple Hack Might Make Your New Year's Resolutions Way More Doable & Realistic
2019 has finally made its grand entrance, friends, but if you still haven't narrowed down your resolutions for the new year, no worries. Trust me — lofty, overarching goals are so last year, anyway. The next 12 months are yours for the taking, so if you have a laundry list of areas you'd like to improve on, but the idea of setting one finite aspiration has you feeling overwhelmed, figuring out a game plan for how to set weekly goals, instead of putting pressure on yourself to make big things happen in a short amount of time (let's face it, 365 days sounds like a lot, but it flies by), might be a better way to go.
Personally, New Year's resolutions are my jam. When I know a new year is starting, and that I have an entire trip around the sun to improve on certain areas of my life, or start a passion project I've been thinking about for quite some time, it genuinely excites me to see where I'll end up by the time Jan. 1 rolls around again. That being said, however, I'm not naive. I know that most New Year's resolutions fail. In fact, according to U.S. News & World Report, a whopping 80 percent of all New Year's resolutions fail, and fail early. And when I say early, I mean, once you're halfway into February, there's a solid chance you're going to shrug off your aspirations because, hey, there's always next year, right?
Enter: weekly goals. In other words, if you fail to meet a certain goal by Friday, there's a clean slate waiting for you to take advantage of it come Monday. See, the idea behind setting weekly goals, or "microgoals," as Nina Rubin, M.A., a life coach based in Southern California, calls them, is more manageable and more easily measurable than traditional New Year's resolutions. "[Weekly goals] allow you to reframe and adjust each week rather than rush at the end," she tells Elite Daily over email. "You can adjust them without getting behind each week."
They say good things come in small packages, but I say good things come to those who make small progress over a long period of time. Think about it: Weekly goals require no fuss, and way less pressure than long-term goals, which can often feel so far away, not to mention unachievable. So how should you go about setting weekly goals? Here's what a few experts have to say on setting and achieving short-term goals in the new year.