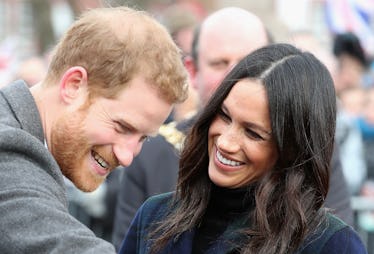 You Can Send Prince Harry & Meghan Markle A Wedding Card & Here's How
Chris Jackson/Getty Images Entertainment/Getty Images
I wouldn't say that I'm best friends with Prince Harry and Meghan Markle, but I would say I've stalked them long enough to feel confident picking out a wedding card for them. The royal prince and American actress are tying the knot on Saturday, May 19, which gives you just enough time to send them a congratulations card if you want to. If you're wondering how to send a wedding card to Prince Harry and Meghan Markle, obviously, the internet and I have got your back.
Apparently, it's not a matter of international security to send the royals mail. I incorrectly assumed any Jane and Joe couldn't just look up their direct mailing address. However, if you ask the internet, you usually shall receive. Thanks to the blog site Gert's Royals, a.k.a "An Encyclopedia of Royal Knowledge," fans can actually access a step-by-step guide on how to send Prince Harry and Meghan Markle a message by post. If you're looking for the fast drive-by, mail your congrats to the following address:
HRH Prince Harry & Ms. Meghan Markle
Clarence House London
SW1A 1BA
UNITED KINGDOM
Pretty straightforward, eh? If you want more particulars on the kind of language you should use when addressing royalty, exactly how to format a letter, and the sort of postage it might require to get from where you are to where they are, you can find a more thorough guideline on Gert's, too.
The truth is, if you send a wedding card to the Clarence House, it's going to be scooped up by the Correspondence Section, who handles all communication between the royals and the public. Technically, you can send letters to other addresses, but it all will eventually be filtered through the Clarence House anyway. For funsies, the Kensington Palace mailing address is:
Kensington Palace
London W8 4PU
UNITED KINGDOM
I consider sending Prince Harry and Meghan Markle a card the same thing as sending Santa Clause a card. Sure, it's technically going somewhere, but the odds of the intended recipient seeing it are super limited, and getting a direct response is even less likely. Plus, I imagine Harry and Markle's "Thank You" list is pretty extreme to begin with.
According to a statement released by Kensington Palace, 2,640 people are officially invited to the big day. That's a lot of thank you cards. That number is made up of 1,200 members of the public, 200 people from a variety of charities and organizations, 100 students chosen from two local schools, 610 Windsor Castle community members, and 530 members of The Royal Households and Crown Estate.
The statement specified Prince Harry and Meghan Markle "want their wedding day to be shaped so as to allow members of the public to feel part of the celebrations too." It continued, "This wedding, like all weddings, will be a moment of fun and joy that will reflect the characters and values of the bride and groom."
If you're looking for design inspiration for the kind of card you want to send them, consider their wedding invitation "vibe." I called it Fancy-Shmancy Old-Timey Chic. Oh yeah, and they were also printed on a stamping machine from the 1930's, if you have one of those lying around.
Kensington Palace explained,
Lottie Small, who recently completed her apprenticeship, printed all of the invitations in a process known as die stamping, on a machine from the 1930s that she affectionately nicknamed Maude.
On the off-chance Markle and Harry read this article instead of the card(s) I sent them, let me say this:
Guys, I love ya. Keep it up. Go get 'em out there, and always remember — you miss 100 percent of the bagels you don't eat. Can't stress that enough.
Love, You Know Who.
Check out the entire Gen Why series and other videos on Facebook and the Bustle app across Apple TV, Roku, and Amazon Fire TV.