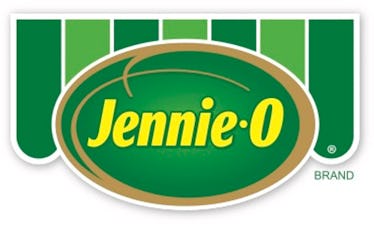 Here's How To Return Your Jennie-O Ground Turkey If You Found Out Yours Has Been Recalled
Ah, Thanksgiving. It's that time of year when you get to eat all the pumpkin pie your heart desires, and catch up with friends and family that you haven't seen in awhile. I think most of us can agree that salmonella has no place in the Nov. 22 festivities, but if you've been following the news lately, then you might have heard about the recent Jennie-O turkey recall. Having said that, it might be a good idea to double-check the brand of meat you bought for the big feast, so you can then figure out how to return your Jennie-O ground turkey, if necessary.
However, before you get too worried, according to an official press release, only a small number of raw ground turkey products with an expiration date between Oct. 1, 2018 and Oct. 2, 2018 are included in the recall — meaning no full turkey birds from Jennie-O are at risk for salmonella, which, phew, right? That would've been quite the Thanksgiving nightmare.
Of course, there's still a chance that you might have some Jennie-O ground turkey meat chillin' in the back of your freezer right now, so if you do find that a package of meat you previously bought is part of this recall, you can return any affected turkey products to the store you purchased them from for an exchange, as per Jennie-O's official recall announcement on its website. For additional questions or extra support, you can call Jennie-O's consumer engagement line at 1-800-621-3505, between 8 a.m. and 4 p.m. CT to speak to a representative.
Before you make the trek back to your local supermarket, though, you'll want to double-check your turkey packaging to make sure that what you bought was actually included in the recent recall. Again, luckily, this only applies to certain ground turkey products from Jennie-O, so if you just have a massive bird thawing in your fridge, then you don't need to worry. Moreover, according to the official press release, the recall only applies to 23 U.S. states, and you can check here to see if your state made the list.
Per the press release, these are the affected varieties:
1-lb. packages of "Jennie-O GROUND TURKEY 93% LEAN | 7% FAT" with "Use by" dates of 10/01/2018 and 10/02/2018. UPC Code: 4222230200
1-lb. packages of "Jennie-O TACO SEASONED GROUND TURKEY" with a "Use by" date of 10/02/2018. UPC Code: 4222230202
1-lb. packages of "Jennie-O GROUND TURKEY 85% LEAN | 15% FAT" with a "Use by" date of 10/02/2018. UPC Code: 4222231307
1-lb. packages of "Jennie-O ITALIAN SEASONED GROUND TURKEY" with a "Use by" date of 10/02/2018. UPC CODE: 4222230203
1-lb. packages of "GROUND TURKEY 90% LEAN | 10% FAT" with a "Use by" date of 10/02/2018. UPC Code: 4222208930
In addition to seeing if your product matches one of the ones on this list, be sure to check for the establishment number (which you can find in the lower left corner on the front of the package) to see whether it's "P190." If it's not, then you're totally in the clear.
According to the United States Department of Agriculture (USDA), there could be contaminated turkey products from other companies that have yet to be recalled. If you're having turkey on Nov. 22, make sure you're following general meat safety guidelines to reduce your risk of contracting salmonella. The Centers for Disease Control and Prevention recommends washing your hands carefully after handling any raw meat, cooking raw turkey to an internal temperature of 165 degrees Fahrenheit, and keeping all food prep areas clean to avoid the spread of germs. If you have any additional questions about food safety, you can call the toll-free USDA Meat and Poultry Hotline at 1-888-MPHotline (1-888-674-6854).