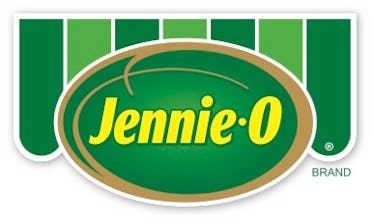 Here's What You Need To Know About Jennie-O's Turkey Recall Ahead Of Thanksgiving
Preparing for Thanksgiving dinner is a stressful enough time without having any wrenches thrown into your holiday plans. With a recent turkey recall from Jennie-O, though, you might find yourself wondering if it will affect your Turkey Day plans. So, does the Jennie-O recall include Thanksgiving turkeys? Before you scratch the bird off your menu, take a look at the important information from the company about the voluntary recall.
On Friday, Nov. 16, Jennie-O Turkey Store announced a "limited voluntary recall" of certain ground turkey products, according to an official press release. Per the official explanation on the Jennie-O website, the recall was put in place after "someone became ill after exposure to Salmonella in a raw turkey product." Again, don't panic and switch around your whole Thanksgiving menu just yet, because the good news is that the recalled products aren't even in stores anymore.
The limited number of recalled products came from a "single day's production" on Sept. 11, 2018, and it's only from one line of production. To stay safe, though, you should know that the recalled product is "fresh raw ground turkey with expiration dates of 10/1 and 10/2," per the press release. In other words, your whole bird from Jennie-O should be just fine. Phew!
In fact, the the press release made sure to point out that "no other Jennie-O varieties, other packaging configurations, or code dates are included in this recall." To be sure that your ground turkey is safe to consume, you should follow the clear instructions set forth in the press release to check your product.
First of all, the recalled ground turkey with expiration dates of Oct. 1 and Oct. 2 was shipped to 23 states, and you can check here to see if your state was included. When it comes to knowing which exact varieties were affected, you should look to see if you have any of the following products with an "establishment number" of P190, found on the lower left corner of the front packaging, per the press release:
1-lb. packages of "Jennie-O GROUND TURKEY 93% LEAN | 7% FAT" with "Use by" dates of 10/01/2018 and 10/02/2018
1-lb. packages of "Jennie-O TACO SEASONED GROUND TURKEY" with a "Use by" date of 10/02/2018
1-lb. packages of "Jennie-O GROUND TURKEY 85% LEAN | 15% FAT" with a "Use by" date of 10/02/2018
1-lb. packages of "Jennie-O ITALIAN SEASONED GROUND TURKEY" with a "Use by" date of 10/02/2018
If your Jennie-O product isn't one of the aforementioned ground turkey products, then it is not included in the recall and is safe to consume within its given expiration date, per the release. You can get further information about everything you need to know about the recall from the Jennie-O website and the press release.
OK, I know this isn't the most fun news to read the week of Thanksgiving, but at least you can look on the bright side and know that big ol' frozen bird you're defrosting from Jennie-O is still good to go for Turkey Day on Thursday, Nov. 22. To help out turkey fans even further, Jennie-O also included a handy guide to safely preparing a turkey from its raw state. Washing your hands after touching raw meat and cooking it to the proper temperature are some of the helpful tips for when you get in the kitchen on Thanksgiving Day.
Alright, now that you know your whole turkey from Jennie-O is safe to consume with the fam on Thanksgiving, it's time to start getting the preparations underway. (Just remember to still double-check your Jennie-O ground turkey for its possible inclusion in the recall.) Personally, I've already got my mind on the leftover turkey sandwiches, so if Thursday, Nov. 22, could get here, like... ASAP, that would be great. Happy feasting!