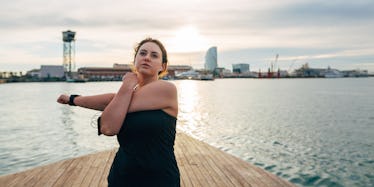 Here's How To Relax After A Workout When You Can Barely Even Move Your Body
There's nothing like the feeling you get when you finish an excruciatingly intense and challenging workout. Even though it seemed impossible to get through in the moment, you can't help but feel totally accomplished and proud of yourself once you're done — that is, until your muscles start aching, and you can barely even make it to the gym's exit. I'm not quite sure how you relax after a workout when it suddenly feels like you're lifting a car every time you have to go from sitting to standing, but I do know my body needs some relief ASAP.
I know I probably sound a little dramatic, but muscle soreness really can feel awful sometimes, especially when it gets to the point where you can barely even move your body. Whether you just completed a sweaty SoulCycle class, a challenging yoga flow, or a super intense HIIT circuit, achey muscles — more formally known as delayed onset muscle soreness (DOMS) — are often lurking right around the corner. According to the American College of Sports Medicine, DOMS usually starts around 12 to 24 hours after your workout "and may produce the greatest pain between 24-72 hours after the exercise has been performed." Lovely.
But the good news is this: Your body doesn't always have to be in horrible pain after every single workout. Yes, sore muscles are somewhat unavoidable to an extent, because your muscle fibers literally need to break down first before they can get stronger. But according to Men's Journal, while DOMS is "an indicator of a hard workout, it's not necessarily the best indicator of a good workout." In other words, yes, you can expect to feel totally beat after trying a brand new workout that targets completely different muscles in your body, but if you feel that way all the time after sweating it out, your muscles — and you — won't ever get a chance to truly recover.
So yeah, at the very least, take comfort in the fact that DOMS isn't a constant struggle you'll have to deal with. And on those days when you can barely make it up to your fourth-floor apartment after a run, try some of these post-workout recovery techniques to soothe your muscles and your mind.