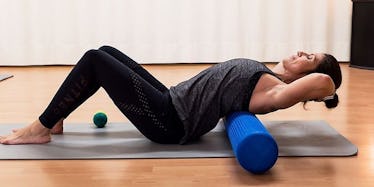 5 Foam Roller Stretches You Need To Know About If Your Back Is Always Sore
Dealing with a perpetually sore back can be uncomfortable as hell. Whether you're going super hard with deadlifts in the gym, or your spine insists on holding onto all the stress from your day, soothing those knotted muscles is not an easy task. But a few simple foam roller stretches can definitely loosen up all that tension when you feel like you're paralyzed in pain.
If you're not familiar with them, foam rollers are long, cylindrical objects that basically allow you to reap all the benefits of a deep-tissue massage without having to splurge on the money for one. Foam-rolling soothes your muscles through something called myofascial release, which is basically just a fancy way to describe a self-massage that targets specific pressure points in your body to release tension. While it's definitely a great way to massage your aching muscles, foam-rolling is also a generally awesome tool to add to your routine to encourage muscle recovery in your workout regimen.
So, the next time your back is acting up and confining you to your couch, skip the overpriced massage at the spa and ditch those over-the-counter painkillers that you know won't work anyway. Whip out a foam roller instead, and try flowing through these five restorative stretches for a sore back.