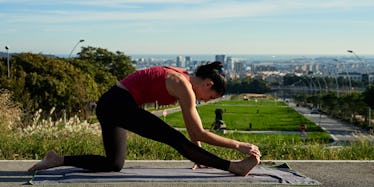 5 Stretches You Should Definitely Be Doing After Each Workout To Soothe Your Muscles
You know the drill: You just finished a killer workout, you're so sweaty that it feels like you low-key took a second shower, and the last thing you want to do is stretch. At one point or another, everyone's been guilty of bolting out of the gym the minute they finish that last rep. But the reality is, stretching is a super important part of muscle recovery and repair, and it definitely deserves to be a staple in your routine. That's why knowing the right stretches to do after a workout will help your muscles grow and keep them feeling soothed and strong as hell.
According to FitDay, the lactic acid that builds up in your muscles during a quality sweat sesh can easily lead to muscle fatigue and soreness when you skimp on that stretching sequence. Plus, after exercising, your muscles are already warmed up, but they're secretly craving a healthy, stretchy dose of TLC. The increased blood circulation that comes with just a few soothing stretches will help you recover faster and more efficiently, so you can continue slaying workout after workout.
It's worth noting, too, that stretching isn't just about relieving your muscles. Studies show that post-workout stretching promotes mindfulness and calms your nerves.
So, the next time you're tempted to scurry out of the gym immediately after wrapping up that last ab circuit, give a few of these stretches a try, and remind yourself that it'll work wonders for preventing unwanted injures, a savage amount of soreness, and it'll provide a relaxing mental cool-down you probably didn't even know you needed.