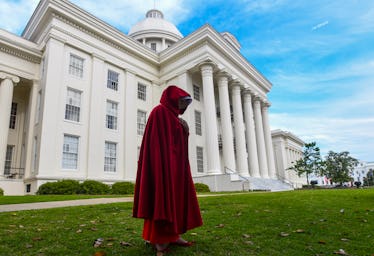 Here's How You Can Stand Up To Protest Abortion Restrictions Around The Country
Julie Bennett/Getty Images News/Getty Images
Over the past few weeks, restrictive anti-abortion measures have been popping up in states across the country. The recent sweep of fetal heartbeat and near-total abortion bans have led many people to stand up and speak out in defense of protecting reproductive rights for citizens. For those who want to get involved, here's how to protest abortion bans around the country, because it's never been so urgent.
In recent weeks, a number of high-profile anti-abortion laws have passed in states around the country, bringing reproductive rights to the forefront of the national conversation. On May 7, Georgia's Gov. Brian Kemp signed a fetal heartbeat bill that would ban abortions after a heartbeat is detected — usually at around six weeks, which is before many people may know they're pregnant. Then on May 14, Alabama Gov. Kay Ivey signed the Human Life Protection Act, which will ban abortions in almost all cases, including pregnancies caused by rape or incest, with the only exception being for the health of the pregnant person. In addition, physicians who conduct or attempt to conduct the procedure could face up to 99 years in prison. A day later, on May 15, Missouri's legislature voted to pass a similar measure called the Missouri Stands for the Unborn Act. This bill would ban abortions after eight weeks of pregnancy, and the procedure would only be allowed in cases where the person's life was in danger. However, abortions would still be banned even for pregnancies caused by rape or incest. The Missouri Stands for the Unborn Act also includes a "trigger" law, which would outlaw all abortions if Roe v. Wade, the Supreme Court decision legalizing abortion in the United States, is overturned.
These extreme anti-abortion measures have received backlash from reproductive rights activists and concerned citizens across the country. And they're doing something about it. On May 21, advocates are taking part in a "Stop The Bans" day of action, including protests around the country. Don't see your city listed below? Don't worry. You can check out the action's website and find a protest local to you. And if there isn't one? You can always make your own, after all.