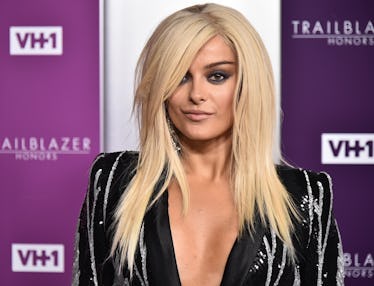 The Surprise Meaning Behind Bebe Rexha's Name Makes So Much Sense
Theo Wargo/Getty Images Entertainment/Getty Images
I've always dreamt of having a gorgeous name that had people repeating it nonstop because it sounded so beautiful rolling off their tongue. Clearly, I didn't get that very far into that fantasy, but I've managed to cope. But 28-year-old Bebe Rexha was one of the lucky ones: Not only does she have the coolest name in the universe, but she's also a wickedly talented singer, whose voice you've, no doubt, heard in songs like "Me, Myself & I" with G-Eazy and "In the Name of Love" with Martin Garrix. But if you're unsure how to pronounce Bebe Rexha, no worries, friends — I've got you covered. And let me tell you guys, the meaning behind the singer's name is almost even more beautiful than the name itself.
But before I school ya on all things Bebe, I just want to give the girl a big shoutout for earning herself a nomination at the 2018 VMAs. She's nominated in the Best Collaboration category for the song, "Meant to Be" featuring Florida Georgia Line (you've undoubtedly heard of it, and have probably used some of the lyrics as your Instagram caption by this point), and I think I'm speaking on behalf of everyone when I say that she's a worthy contender.
But, I digress. Back to Bebe.
Back in 2016, Rexha must have known that fans were dying to know the pronunciation of her full name, and if it was short for anything in particular. She took to Twitter to let the world know that she'd be chatting with MTV Push to discuss how fans can pronounce her name. She wrote,
Can you pronounce my real first name? // Watch my 'Introducing' interview at http://push.mtv.tv !
She posted a short video clip on her Facebook the same year, explaining the pronunciation of her name, as well as the backstory behind it.
"My name is Bebe Rexha, but I was born with the name Bleta Rexha, which means "bumblebee" in Albanian," she said in the clip. "My parents are Albanian, and people started calling me 'Bebe' for short."
You can watch the clip below to hear how she pronounces her name as well:
Totally considering naming my firstborn Bleta, solely for the fact that bumblebees are one of my favorite things ever. So thanks for the tip, Bebe!
While her family is Albanian, she actually grew up in New York City. In an interview with GQ, Rexha discussed the one song she dislikes, "Cry Wolf," and reveals that it simply wasn't her NYC-style. She said,
I hate that song! ... I was in a dark place at the time. Now I'm doing what I had always done from the beginning. When I was 16, I had a really big hit in the K-pop world. It was a hip-hop/R&B/pop song. I kinda strayed from that because of the writers I was hanging out with. Now I'm back to my roots: a New York City chick who grew up on hip-hop. My favorite artists are Kanye West, Jay Z, the Fugees, Lauryn Hill, Destiny's Child.
Sounds like a pretty dope soundtrack, if you ask me.
So, however it is you'd like to call Bebe by — Bebe, Bleta, or Bumblebee — one thing I know for sure is that she's flying pretty damn high right now.