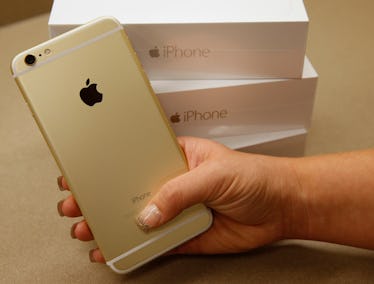 Here's How To Preorder The Gold iPhone XS & XS Max Because You Know You Want To
George Frey/Getty Images News/Getty Images
You probably already know by now that Apple revealed three new iPhones at its "Gather Round" keynote address on Wednesday, Sept. 12. The iPhone XR, the iPhone XS, and the iPhone XS Max are the latest devices to join Apple's smartphone lineup. While all three of the new phones are worthy of being your next iPhone purchase, you might be most focused on the iPhone XS and the iPhone XS Max, the newest versions of 2017's iPhone X. To make sure you get yours ASAP, here's how to preorder the gold iPhone XS and XS Max.
While the announcement of the iPhone XS and iPhone XS Max is exciting on its own, the news that these new phones will be available in a gorgeous gold color is just one more reason to make sure you get your hands on one of these new devices as quickly as you possibly can. If your calendar is nearby as you read this, you'll want to mark down Friday, Sept. 14, because that is when you can preorder your very own gold iPhone XS or iPhone XS Plus.
All you need to do is go the Apple website and pick out the gold iPhone XS or XS Max that speaks to you on Friday, Sept 14. It will ship out on Friday, Sept. 21.
The release of the gold iPhone XS and iPhone XS Max is welcome news to fans of the metallic color. Since the iPhone X was originally released in 2017, it has only been available in space gray and silver. It's not that those colors are totally unappealing or anything, but the lack of a gold iPhone X was definitely noticed.
Well, now you can preorder the iPhone XS or the iPhone XS Max in the glorious gold color that you've always wanted. Other features on these new iPhones that Apple fans are loving include the options between two sizes and two price points. You can opt for the 5.8-inch iPhone XS or the larger 6.5-inch iPhone XS Max. With price options like the $999 iPhone XS and the $1099 iPhone XS Max, you can really tailor your golden iPhone to your budget. If you're really in the market for a sleek AF iPhone without spending all of your dollars, you can look into the iPhone XR for only $749.
During Wednesday's reveal of the iPhone XR, iPhone XS, and the iPhone XS Max, fans of Apple's smartphones learned a lot about the new models. For instance, the iPhone XR is the low-cost version of the iPhone X. Thanks to details like aluminum edges — as opposed to stainless steel — and a single-lens camera, you can get the look of an iPhone X without the hefty price tag. You'll also have plenty of color options like black, white, red, coral, yellow, and blue.
Really, it'd be hard to go wrong with picking any of these iPhones as your new smartphone. But you might want to decide sooner rather than later, because you can preorder the phone of your choice so soon.