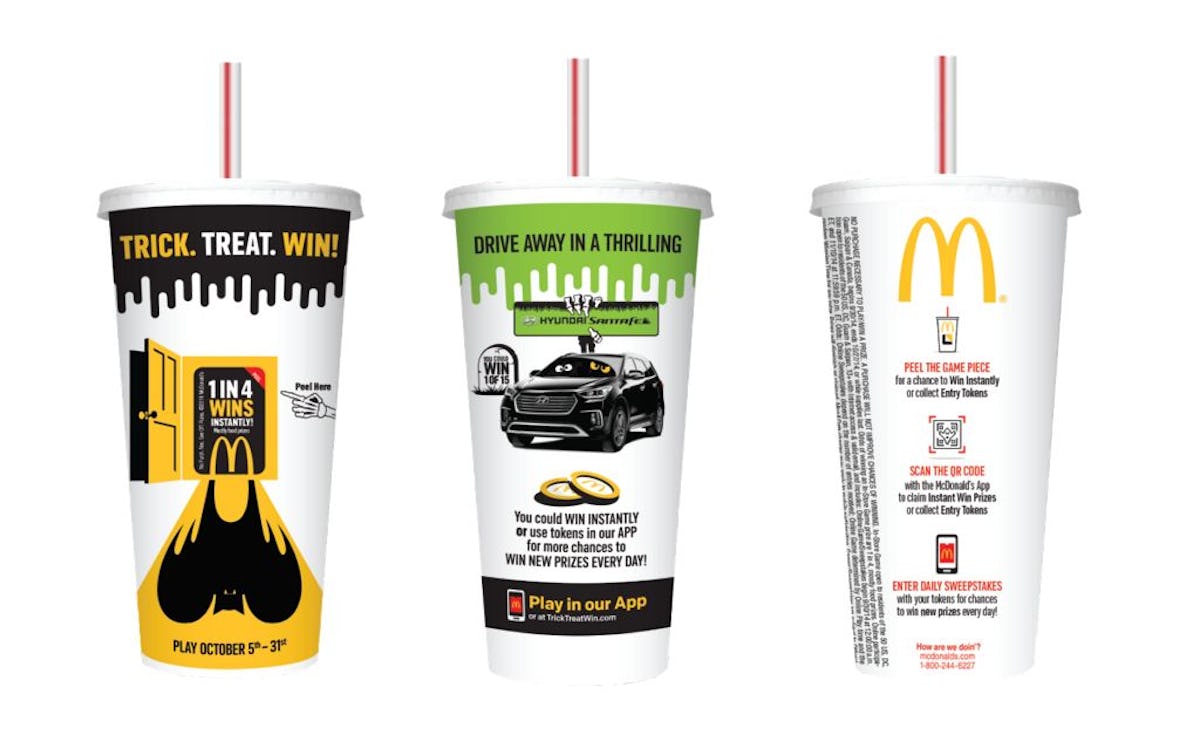 It's So Easy To Win Prizes Playing McDonald's' Trick. Treat. Win!" Halloween Game
McDonald's
October is by far one of my favorite months of the year. The leaves are changing colors, there's a chill in the air, and Halloween is just around the corner. Aside from all of the usual October activities, McDonald's is launching a new Halloween-themed game this month that's super easy to play. And yes, there are prizes. (!!!) It's sort of like trick-or-treating, but at McDonald's. Here's how to play McDonald's' "Trick. Treat. Win!" Halloween game to win legit prizes.
Get your game face on, because McDonald's Trick. Treat. Win! game kicks off on Friday, Oct. 5. It's super easy to play. If you follow the rules, you can win some really great prizes. More on that in a minute. Here are the two ways you can play McDonald's' Trick. Treat. Win! game.
First, you can win prizes instantly when you make a purchase at a participating McDonald's location. The game pieces are featured on the packaging of food items like an order of fries, a Big Mac Sandwich, Artisan Chicken or Buttermilk Crispy Chicken Sandwich, and Biscuit Sandwich, according to McDonald's. The game pieces are also featured on beverage cups including a small McCafé Frappé, Smoothie or Shake and snack size McFlurry. If your game piece doesn't contain an instant-win prize, don't worry. There's still hope. You should see an Entry Token code that you can use to play in the Trick. Treat. Win! daily sweepstakes.
The second way to win prizes is to use to play in the McDonald's app, which is available for download on iOS and Android devices. This is where you can redeem your Entry Tokens for a chance at winning a prize in the daily sweepstakes drawing.
"This Halloween, we're giving customers a month-long celebration of trick-or-treating by playing the new Trick. Treat. Win! game at McDonald's," Kenny Mitchell, Vice President of Marketing, McDonald's, said in a press release. "With one in four odds of winning, we're upping the ante with luck, not superstitions."
It's sort of similar to the McDonald's Monopoly game in the sense that you can win prizes, and the game pieces are attached to certain food and drink items. Aside from those two factors, the Halloween game takes on a spooky fun time of its own.
Now, I can't promise that you will always win something. In fact, the fast-food burger chain calculates that your chances of winning are 1 in 4, according to McDonald's. That's really not so bad. Most of the time, you'll probably win a free food item. (Fine by me. I'm not one to turn down free food.) But, you could score big and win some of the other awesome prizes included in McDonald's' Trick. Treat. Win! Halloween game.
Some of the top prizes include gift cards, Roku TVs, an all-new 2019 Hyundai Santa Fe, tropical beach vacations, football fan trips, a trip to Universal Parks & Resorts, and more than 1,000 chances to win cash prizes, according to McDonald's. That's not all you can win, though. Like all good contests, McDonald's' Trick. Treat. Win! Halloween game includes a chance at winning the coveted grand prize of $50,000. Think of all the Big Macs you could buy with that money.
The contest ends on Wednesday, Oct. 31. Stop by the nearest McDonald's store for your chance to win. Who knows, you might wind up with a few pieces for a free lunch. Or, you could win something even better. It's so easy to play, it would be a ghoulish mistake not to.