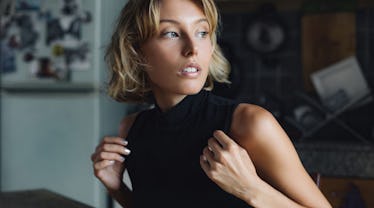 A Partner's Death Is Never Easy, But Experts Say This Is How To Start Moving On
My partner and I play a slightly grim game where we argue over who gets to die first. We pretend that it's just our "dark" senses of humor at work, but in reality, it's our way of easing tension about something we really fear: the day that one of us will pass away and leave the other behind. Honestly, it's so painful to think about, all we can do is joke about it to try and diffuse it. Knowing how to move on after a partner dies is not a skill that I want to have at all, but that doesn't we don't all need to have it — especially when you've lost someone you love. Because if, for (very dark) instance, something were to happen to me, one of the things that would be most important to me would be for my partner to know know that I would want them to move on and find love and happiness again, as soon as possible.
However, knowing that your partner would want you to move on is one thing, but actually going through the grieving process and doing it, well, that's something entirely different. That's why I reached out to the experts — Dr. LeslieBeth Wish, licensed clinical psychotherapist, relationship expert, and author of Training Your Love Intuition for Wise Relationship Choices, and Nicole Richardson, licensed marriage and family therapist — for their advice on how to move on from the loss of a partner when you feel like you're ready. Here is what they had to say.