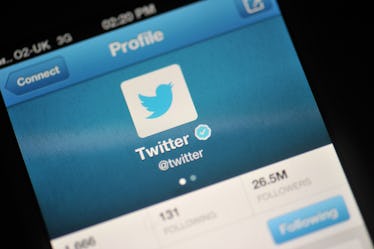 Here's How To Get Your Social Media Halloween-Ready With A Spooky Name
Bethany Clarke/Getty Images News/Getty Images
Halloween is my favorite time of year. Midnight on Oct. 1, I'm already lugging out all the decorations and covering my apartment in fake spider webs and orange streamers. Since I love this time of year so much, I'm always looking for new ways to decorate and get in the holiday spirit. In my quest, I learned how to make a spooky name on Twitter, so I can turn my Halloween game up to 11.
Scrolling through your Twitter feed recently you might have noticed that some folks have changed their display names to get into the Halloween spirit. If you want to celebrate the Halloween season in style by adding a little spook to your Twitter name, it's pretty easy to do. From your phone, go to your profile and click "edit profile." Then you'll see a line for your name. All you need to do is type something new in place of your old boring display name. Or, you can do what I did and just add a bunch of ghost emojis in between your first and last name. You can be more creative, though. Try some witch emojis instead. The possibilities are pretty much endless, well until you run out of Halloween-themed emojis.
If you're more of a visual person, here are some photos to get you through:
If emojis aren't your thing, you can try a clever spooky pun or maybe pay homage to your favorite spooky movie character (as I type this I'm about to ditch the ghosts for "Lydia Deetz").
Changing your Twitter display name is actually really easy and could provide minutes of entertainment. But, if you're one of those people who thinks Twitter is yesterday's news and it's all about Instagram now, then there's good news for you too. Instagram loyalists can also change their display names to something a little more on brand for Halloween (I know, it's a lot of excitement to take in right now). Changing your name on Instagram works pretty much the same way it does on Twitter. Just open the app on your phone, click "edit profile" and type in a new name, or add to your old one and hit "done." So easy.
Here are some pictures again:
Alternatively, if you like your name just the way it is but still want to carry over some Halloween fright into your profile, you can just add lots of Halloween-themed emojis to your bio, like I did. I already talked about the ghost and witch emojis, but there's also a pumpkin, a bat, a skull, a skull and crossbones, and of course orange and black hearts. Which reminds me, while I have you all here, who wants to sign my petition for a candy corn emoji?
Halloween is such a fun time, and thanks to technology the decorating doesn't have to end with your front door or dorm room. Now you can share your All Hallows' Eve love with the wealth of the Internet. So go have fun, be creative, and get spooky with it. The choice of pun in your new spooky season name, however, is all on you.