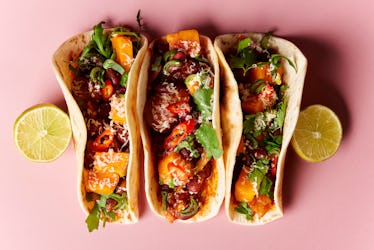 There's A Meat Recall In 9 States, So Maybe Reschedule Your Taco Night
We've got some bad news: You may want to think about postponing your upcoming taco (or fajita) night because a major ground beef recall is hitting supermarkets across the country. The United States Department of Agriculture announced a recall of thousands of pounds of fresh and frozen raw beef on March 31 after it didn't undergo the proper federal inspection process. Yikes. If you're wondering how to know if your meat is recalled, be sure and check the label.
Workers at Texas Meat Packers, a Fort Worth, Texas-based meat processing plant, produced 7,146 pounds of fresh and frozen beef products on March 24 that didn't undergo routine and proper federal inspection from officials at the U.S. Food and Drug Administration. Whoops. The incident wasn't discovered until six days later on March 30, 2018, when it triggered the USDA's recall the following day on March 31, 2018.
The recalled beef was sold in grocery stores throughout nine states including Alabama, Arkansas, Indiana, Louisiana, Mississippi, Missouri, Oklahoma, Texas, and Wisconsin. So if you've taken a trip to the grocery store recently, do yourself a favor and take a peek in in your refrigerator to see if you may have purchased any of the meat. Check the label on product and look for a pack date of March 23-24, 2018. The following red meat goods are included in this recall:
5-pound, vacuum-packed frozen packages of "Beef Skirt Diced for Tacos" with an case code of 1470.
5-pound, vacuum-packed frozen packages of "Pre-seasoned Beef for Fajitas" with an case code of 36989.
Varying weights of vacuum-packed packages of fresh "USDA Choice Angus Beef, Fajita Seasoned Steak, Beef Flank Steak for Fajitas" with an case code 567248261.
Varying weights of vacuum-packed packages of fresh "USDA Choice Angus Fajita Seasoned Strips, Beef Flank Strips for Fajitas" with an case code of 567248253.
To locate the item codes, check the upper-left hand corner of the packaging label. Also, even though these products weren't cleared by USDA's Food Safety and Inspection Service (FSIS), they still have the organization's mark of inspection with the following establishment number "34715" printed inside of the label.
If you're wondering how this could've possibly happened, well, there hasn't been an official explanation issued just yet. Alas, there are laws in place to prevent this exact scenario from happening. Thanks to the Federal Meat Inspection Act, which first took effect in 1906, all commercially-sold meat undergo inspection by federal officials to ensure that it is OK for public consumption. Thankfully, despite this lapse in inspection, these instances are few and far between — so it's probably safe to keep shopping at your local market for packaged red meat (you should still check the label if you live in one of the states previously listed).
Luckily, no illnesses have been reported in relation to this recall — but the USDA's Food Safety and Inspection Service is still taking the matter very seriously. The USDA is categorizing this recall to its highest classification — Class 1 — which means that there could be "serious, adverse health consequences or death" if you consume the meat. Anyone who may have eaten the meat should contact their primary care physician just to be safe.
Officials are concerned that consumers may have tossed the beef in their freezer to be enjoyed at a later date. So, yeah, if you think you may have purchased the recalled meat, you should take extra precautions and check your fridge and freezer for the items. Because no taco is worth potentially dying for. Go ahead and toss out the tainted meat or return it to the place of purchase for a full refund.
Now, back to the grocery store to start planning your next taco night.