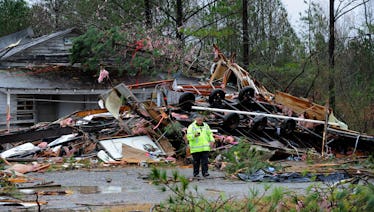 Here's How To Help After The Tornadoes In Alabama, Because This Is Awful
Eric Schultz/Getty Images News/Getty Images
On Sunday, March 3, the Southeast United States experienced a terrible tragedy. At just around 1 p.m. local time, a tornado warning sounded off in Alabama, per The New York Times, the precursor to a series of devastating tornadoes that destroyed homes and left many dead. This ordeal has impacted many people's lives, so here's how to help after the tornadoes in Alabama. Anything helps.
The tornadoes hit Alabama, Georgia, and Florida, tearing downhomes and killing at least 23 people, with all the deaths reported in Lee County, Alabama, per the Times. So far, it's reportedly unclear whether any fatalities have happened in Georgia or Florida. Even though these tornados stretched into other states, Alabama experienced the worst of it with two tornadoes, one at least a half-mile wide according to the Times, hitting back to back, destroying homes and uprooting whole trees. This marks the deadliest incident of tornadoes in Alabama since 2011, according to CNN.
Following the tornadoes, states have assembled search teams to look for survivors and displaced residents. Lee County Sheriff Jay Jones told reporters for the Times that the East Alabama Medical Center in Opelika, Alabama received more than 60 patients on Sunday, March 3, but there may be more people in need who haven't been found. On March 4, President Donald Trump took to Twitter to state that he has directed the Federal Emergency Management Agency (FEMA) to give "A Plus treatment" to Alabama. (A previous version of the tweet was deleted for using the wrong handle for Alabama Gov. Kay Ivey.) He wrote,
FEMA has been told directly by me to give the A Plus treatment to the Great State of Alabama and the wonderful people who have been so devastated by the Tornadoes. @GovernorKayIvey, one of the best in our Country, has been so informed. She is working closely with FEMA (and me!).
While many of those affected may be receiving aid, there's still a lot more we can do to help. So, for those looking to lend a helping hand, here's a few ways to pitch in.