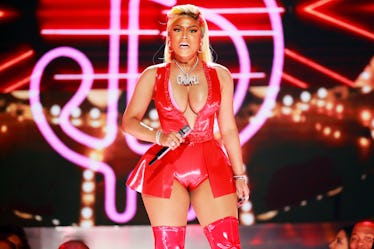 Nicki Minaj Is Going On Tour SO Soon, So Get Your Tickets ASAP
Leon Bennett/Getty Images Entertainment/Getty Images
Nicki Minaj is the Queen of Hip Hop, don't @ me. But literally... her new album is called Queen. It's filled with hits from the Young Money rapper and features artists like Eminem, Future, The Weeknd, Ariana Grande, and Lil Wayne, so yes. Sign me up for 10 copies. With the release of the new album (a week early, too, by the way), fans want to know all about when they can hear Nicki rap these IRL. Turns out, the wait won't be too long. Nicki Minaj is hitting the road with Future for an epic tour, and it all starts on Sept. 21. Here's how to get tickets for Nicki Minaj's NICKIHNDRXX tour ASAP.
First, let's take a look at the dates for when Nicki and Future will be in a town near you. The first stop is the end of September in Baltimore, Maryland. The duo then makes their way around the country, stopping right after Thanksgiving in Las Vegas, Nevada, for their final show before a holiday break. The tour then picks back up in Europe on Feb. 21, 2019 in Munich, Germany. Here are all the North America dates:
9/21 - Baltimore, MD
9/23 - Washington D.C.
9/26 - Detroit, MI
9/28 - Chicago, IL
9/29 - Cincinnati, OH
10/1 - Toronto, ON
10/2 - Buffalo, NY
10/4 - Boston, MA
10/5 - Uncasville, CT
10/7 - Newark, NJ
10/11 - Brooklyn, NY
10/14 - Raleigh, NC
10/16 - Charlotte, NC
10/19 - Miami, FL
10/20 - Orlando, FL
10/23 - Memphis, TN
10/28 - Nashville, TN
10/30 - New Orleans, LA
11/1 - Dallas, TX
11/2 - Houston, TX
11/4 - Kansas City, MO
11/6 - Denver, CO
11/9 - Portland, OR
11/10 - Seattle, WA
11/16 - San Jose, CA
11/17 - Sacramento, CA
11/20 - Los Angeles, CA
11/24 - Las Vegas, NV
So, how can you grab tickets to hear Nicki perform top hits like "Chun-Li" and "Barbie Tingz"? Easy. Tickets are already on sale on Live Nation. You can also grab tickets on Ticketmaster and StubHub. The tickets went on sale back in June. Can't wait until the end of September to see Nicki? If you're in the Philadelphia area, Nicki will be headlining the Made In America festival on Sept. 1 and 2. As for Future, he'll be at the Billboard Hot 100 Music Festival on Aug. 19 at Jones Beach Theater on Long Island.
This will be the first time Nicki Minaj will be on tour since The Pinkprint Tour back in 2015/2016, and I very much doubt she'll disappoint. Back in July 2018, Minaj tweeted, "Just added someone to the tour cuz we did a dope song together that y'all haven't heard yet. Omg. #NickiHndrxxTOUR guess who the 3 diff artists are?"
Here's the tracklist she posted on Instagram on Aug. 10:
By the looks of the tweet and this tracklist, that means we'll see Eminem, Labrinth, Ariana Grande, The Weeknd, Swae Lee, Foxy Brown, or Lil Wayne during the tour. Someone get me a ticket right now.