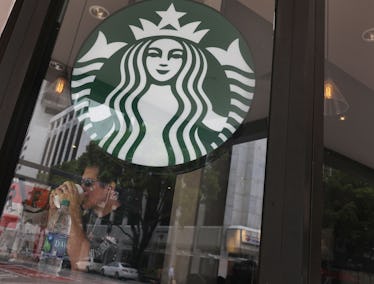 Starbucks' Keto White Drink Is A Must-Taste Even If You're Not On The Diet
Joe Raedle/Getty Images News/Getty Images
Every Starbucks devotee knows that the coffee chain's secret menu is where it's at. Fan favorites like the Mermaid Frappuccino and the Purple Drink ensure your 'gram features the most iridescent colors and on-trend hues of the moment, while niche ingredients let you customize your caffeinated sips for each and every dietary restriction or preference. So when I started seeing rave reviews about Starbuck's Peach Citrus White Tea drink, I knew I had to try it. Here's how to get Starbucks' keto white drink, because you're definitely going to want to try this summery beverage even if you're not on the diet.
Per Delish, the Peach Citrus White Tea is basically Starbucks' keto-friendly take on its Peach Citrus White Tea Infusion. According to Starbucks' website, the original recipe features "ripe peach flavor notes" combined with Teavana White Tea and liquid cane sugar, meaning it won't fly with the keto diet's low-carb, low-sugar restrictions. The idea behind the Keto diet is that by limiting your carb and sugar intake, your body will instead burn through your stored fat as a source of energy. However, it's not as easy as you think, as milk and certain vegetables and fruits are on the no-go list because of their sugar content.
Luckily, customers have figured out that they can customize the peach-infused drink to make it keto-friendly, and thus, the keto-approved Peach Citrus White Tea was born. According to people who've tasted the secret menu item, the beverage is even more delicious than the keto version of the Pink Drink, and you're definitely going to want to try it.
Per a handful of Instagram users, you should order an unsweetened Peach Citrus White Tea with heavy cream, no water, and light ice to ensure that it fits the bill. From there, you can choose whether to add four pumps of sugar-free vanilla syrup or sugar-free cinnamon dolce syrup instead of the liquid cane sugar in the regular version of the drink. If you want some extra sweetness, you can also mix in a packet or two of Stevia.
The results? According to a couple users who've tried it, the concoction apparently tastes like "peaches and cream," while blogger Heart Strings Keto raved, "I'm sorry but this is better than the [keto] Pink Drink. I'll still order the pink drink but this is my BAE right now."
Unsurprisingly, people can't get over how delicious it is. Instagram blogger Danielle Goes Keto admits that she thought the barista had made a mistake when she first tried the secret menu item.
"I was like this can NOT be sugar free! I right away stopped drinking it thinking that the barista messed up my order and gave me the regular vanilla syrup cause it was pure DELICIOUSNESS!!" she wrote on Instagram on July 5. "So I decide to stop at another Starbucks to order the same thing and compare the 2 and WOW!! It was not a mistake! This drink is straight up AMAZING!!"
If you prefer strawberries, the Secret Menu version of the Pink Drink has also been getting a lot of buzz in the keto community.
Not only is the OG completely delicious (the sips combines Strawberry Acai Refresher with coconut milk), but you've probably seen it all over Instagram by now due to its soft Millennial pink coloring. For the Keto version, which took off in July, customers should ask for a Passion Tango Tea with sugar-free vanilla syrup, heavy or light creamer, and Splenda. According to Instagram, it tastes like strawberries and cream, and I'm definitely sensing a completely delicious pattern here.
Whichever keto-friendly option you choose the next time you go to Starbucks, it sounds like you'll be getting a summery dessert in a cup. Enjoy!