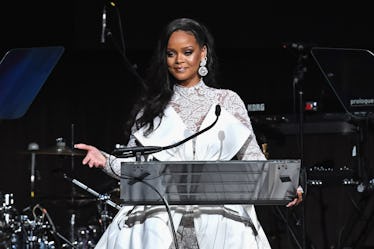 Rihanna's New Instagram Filter Is Here To Give You The Sparkliest Stories Yet
Dimitrios Kambouris/Getty Images Entertainment/Getty Images
I don't know about you, but I try to live my life how I imagine Rihanna probably lives hers. I stand up for myself on a regular basis, I sport a bold lip every so often, and most importantly, I try to pull off a headband as frequently as I can (obviously not as well as she does, that is). Anyway, in case you haven't already heard, RiRi just designed her own IG filter, so if you want to 'gram just like the "Umbrella" and "We Found Love" singer, here's how to get Rihanna's Instagram filter for Instagram Stories. You can "work, work, work, work, work, work" all over your Story, just like the boss lady she is (and you are, too, obviously).
The "Don't Stop The Music" singer, Robyn Rihanna Fenty (more publicly known as Rihanna or RiRi), just added yet another professional item to her vast and impressive resume: she created her own augmented reality (AR) face filter for Instagram Stories, per Instagram. Anyone and everyone can easily access it under Instagram's Story filters when you go into the Instagram Camera in the upper left-hand corner of your home screen.
Once you're in the camera, tap the circle with two arrows to the right of the capture button so that it's in selfie mode. Then, tap the smiley face on the far-right side of the capture button. Swipe through the filters until you find the diamond icon, and then tap on it. It's a diamond headpiece which, yes, shines bright like a diamond. It even adds a few extra sparkles to your face. Let me tell you: I felt like a freaking queen sporting that thing.
OK, I actually felt like royalty.
Aside from looking absolutely gorgeous, the diamond headpiece filter celebrates the annual Diamond Ball, which was held in New York City, on Sept. 13, 2018, according to Teen Vogue. The Diamond Ball is the annual event which raises money for the Clara Lionel Foundation. Rihanna founded the organization back in 2012, to support global education as well as worldwide health programs. The filter raises awareness, and it encourages users to support the cause loud, proud. Of course, it's also fabulous, because you know RiRi wouldn't do it any other way.
RiRi's ultra glam diamond headpiece filter probably isn't the first celeb AR filter that you've given a whirl on Instagram Stories. Earlier in summer 2018, Kylie Jenner debuted her own Instagram filter, and fans were literally going wild over it. The filter, which is still available, allows users to virtually "try on" several different Kylie Cosmetics lip shades such as Candy K, Dolce, Posie K, Say No More, Shady, Boy Bye, and Glitz.
It's honestly perfect for those who didn't want to go out and buy all the lip shades in the Kylie Cosmetics collection before finding out which shade is their best match. The filter also gives you fake eyelashes and a flawless face, so it's pretty much ideal for that perfect selfie.
If you want your 'Gram to give off major Rihanna vibes, you should probably start using her new IG filter on, like... a regular basis. Not only will you be sparkly AF all the freaking time, but you'll be supporting and raising awareness for a really good cause. I'm really hoping for a "Disturbia" theme for RiRi's next filter, because it'll be perfect for spooky season.