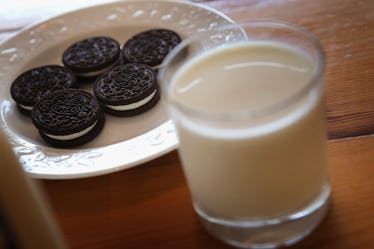 You Can Celebrate National Oreo Day With A Free Treat Thanks To This Sweet Promo
Scott Olson/Getty Images News/Getty Images
I don't know about you, but I love free food — so much that any time there's some kind of promo going on, there's like an 80 percent chance that I know about it already (OK, that's a bit dramatic, but 70 tops). So of course I was thrilled to find out that, in honor of National Oreo Day on March 6, Oreo has blessed us with an exclusive new treat. If you have no idea what I'm talking about, but want to know how to get free Oreo candy bars for National Oreo Day, you've gotta act fast in order to get your hands on it.
Just imagine: Oreo cookies encased in delectable, savory milk chocolate. I think I've prayed about this moment since I discovered deep-fried Oreos; and now the company has made even more of my cookie dreams come true. (And I don't even have to leave my house to get it *double fist pump*). Simply head on over to this page where the company is hosting a giveaway of the new goodies, fill out the form, and if you're one of the first million people to do so, you'll receive an email around March 16 that includes more information on the coupon for the candy bar. The giveaway official ends at 11:59 p.m. ET on March 12, or whenever it hits its goal of participants. It's just that easy.
The brand also enlisted sports analyst Shaquille O'Neal to pass out the treats in his hometown of Atlanta, Georgia, according to Delish. He was reportedly hosting a pop-up "Shaq Shack," at 10 a.m. ET on March 6 at Atlanta Station, so you might be able to score a couple bars there, too (that is, if they haven't sold out already).
The Oreo candy bar is just one of the company's latest food expansions.
Back in January, Oreo revealed four Valentine's Day-themed, heart-shaped donuts in honor of the holiday. According to Delish, some of the treats were dusted with tiny Oreo pieces and drizzled with red frosting while others looked more traditional, simply decorated with an Oreo-flavored icing.
In October 2017, an Oreo beer made its debut at the Texas State Fair. PopSugar reported that the drink was crafted out of an American milk stout and had delicious Oreo cookie floating in it. To top it off, the rim of the cup was decorated with Oreo-flavored filling and cookie crumbs to make a drink that tasted like "vanilla, brown sugar, and cream, with hints of roasted coffee," according to its creator.
Aside from that, Oreo has experimented with various cookie flavors, including candy corn, jelly donut, red velvet, pumpkin spice, and tons of others that have been epic successes (in my household, at least); so imagine what this new treat is gonna taste like. The possibilities are endless.
Some Twitter users couldn't fathom an Oreo candy bar at all.
Another user shared a video from Spoon University showing a really creative way to hide Oreos, which'll come in handy when you need to hide your candy bar from ravenous family members after redeeming your coupon.
*takes notes*
National Oreo Day dates back to 1912.
According to Fortune, that's when the first Oreo was created at a bakery in Manhattan. Now, on the treat's 106th birthday, Oreo is celebrating the sale of more than 500 billion Oreos and its reported average of "95 million more selling every day in over 100 countries," by gifting its loyal customers with an exclusive new dessert.
I'm so ready to chow down on the latest snack, and even more ready to see what the brand tries next. An Oreo cookie cake, maybe? Oreo pizza? Or how about about Oreo pancakes? Whaddaya say?