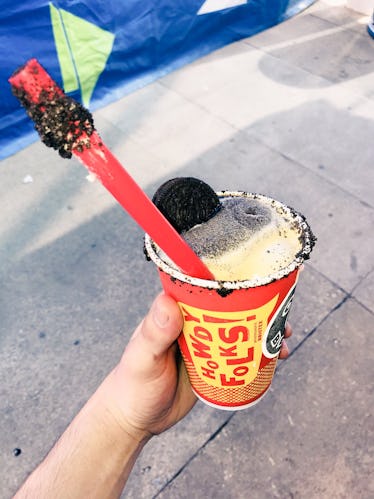 This Oreo Beer Has A Cookie Floating On Top & Twitter Is Loving The Boozy Beverage
Hi, hello this is a quick little PSA to inform you that Oreo beer exists. And anyone over the age of 21 needs to see it in all its glory and make a pilgrimage to its birthplace. Perhaps Twitter has sent you into a Googling fury. You're probably typing, "Where to buy Oreo beer." Alas, I have the answer: the State Fair of Texas. Because of course Texas invented the unique drink, which — as the name suggests — combines beer with everyone's favorite crème-stuffed sandwich cookie.
According to images circulating on Twitter and Instagram alike, the State Fair of Texas' Oreo beer is a beautifully boozy blended beverage served in an Oreo crème- and crumb-lined cup and topped with an Oreo floater. The concoction is listed under 'New Foods for 2017' on the fair's official website, BigTex.com, (Big Tex is the monthlong event's iconic giant cowboy landmark) and is available at Barrera's.
DallasNews.com's city guide site, Guide Live, detailed SFOT's new menu additions in a Sept. 19 post, calling Barrera's Oreo beer "an American milk stout with an Oreo cookie floating on top." The creator told the publication that, with each sip, it has notes of "vanilla, brown sugar and cream, with hints of roasted coffee." They had me at Oreo floater, to be perfectly honest.
As a native Texan, I spent my childhood attending the State Fair of Texas like it was my job. I remember little things like the time very young me helped local radio host Kellie Rasberry demo a new broom called the Sweepa (random but true). I remember riding the Gravitron until I felt woozy. But most of all, I remember wanting to taste all the food. Now, as an adult, I can say that if I were in my home state at this moment, I would dutifully sample (read: chug) the Oreo beer at Barrera's. Once a bev goes viral on Twitter, it's the right thing to do.
People are loving it.
Twitter user Devan Flores (@DevanF91) tells Elite Daily that, as someone who loves beer and Oreos, the drool-worthy drink "tastes great." (I'm taking his word for it.) "Also," he says, "the middle filling from the Oreo that's on the rim and straw made the stout even more delicious!" YUM. Why did I move to New York City again?
"S/o to whoever invented Oreo beer."
Love. It.
Despite many gleeful reactions to the Oreo x beer creation, some Barrera's customers were less thrilled with the flavors.
Some called it "gross as hell."
Others were unsure.
And grossed out by the idea of Oreos in their beer.
I don't know who to believe, but my gut is telling me that, like fried Oreos, it is delicious and worth tasting IRL.
Anyone planning to order the dressed up American milk stout should make their way to the fairgrounds before the event's end on Sunday, Oct. 22. While you're there — and in the mood for a full-on taste test — consider ordering a few of the State Fair of Texas's other 2017 offerings. For example, try Justin Martinez's extremely innovative take on donuts: The Tamale Donut.
On their website, the State Fair of Texas describes the donut and tamale fusion as a "classic pork tamale" that is formed into a donut shape and fried to perfection. Like sweet donuts, they're crispy on the outside and soft on the inside. However, instead of a sugary glaze, The Tamale Donuts are topped with a creamy jalapeño salsa drizzle. And you know what would be the most perfect ice cold drink to wash them down? I'll say it. A refreshing Oreo beer.