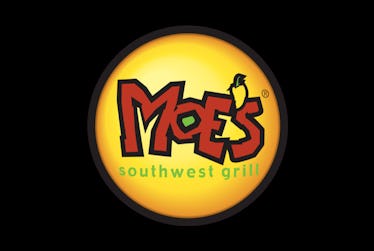 Moe's Is Giving Away Free Queso This Month In Honor Of The Cheesiest Holiday Ever
Those of you who are bummed out about summer ending have something to be excited for, and complimentary queso is involved. Even though September marks the beginning of fall, it's also a sign that Free Queso Day is right around the corner. For those of you who are unaware, Free Queso Day is an annual holiday celebrated by Moe's Southwest Grill — and you can get involved by stopping in during the cheesy celebration. To be more specific, I'll tell you exactly how to get free queso from Moe's in September 2018. It's very simple (and totally worth it).
According to a countdown on Moe's website, Free Queso Day is being honored on Sept. 20, 2018. The cheesy holiday has been celebrated for eight years and counting, per Delish, so it's clear that people love their dip. In order to keep up with the queso and continue celebrating the special date, all you have to do is stop by Moe's on Thursday, Sept. 20. According to the company's press release, there's no purchase necessary when you walk into Moe's for your free queso. You literally just have to walk in, take your complimentary cheese cup, and walk out.
Oh, I'm sure you're going to need something to eat your queso with (unless you're a true fan who slurps it out of the container). Thankfully, the restaurant will be giving customers free chips along with their dip.
Wow. Do you know what I'm excited for?
Apparently, Moe's has been super excited for Free Queso Day, too. The restaurant has been posting teasers on social media to get its followers extra hungry, and it's definitely working. For instance, on Aug. 29, the company tweeted a video of warm, gooey queso that'll make your mouth water. The video's caption says, "If your plans don't involve queso, cancel them. Free Queso Day is Thursday, September 20! #FreeQuesoDay."
Again, the following content might make you hungry:
See? I told you! Free Queso Day 2018 can't come soon enough.
In order to find a participating Moe's restaurant near you that's offering free queso and chips, check out the company's website. Once you're there, hit "Find a Moe's," and enter your city or zip code. Then, a list of local Moe's locations will appear on the screen. After you've found the closest Moe's location to you, you can easily add the event to your schedule by hitting "Add To Calendar" on the restaurant's Free Queso Day website.
If you're planning on visiting Moe's for Free Queso Day and want even more cheesy surprises, you can enter the company's Free Queso For Life contest. In order to do so, simply check into the Moe's app whenever you make a purchase at the restaurant (the more you visit, the better). Or, you can log onto Facebook and visit Moe's page. When you're there, join the sweepstakes by clicking "Sign Up" on the company's pinned post from Aug. 29. You have until Sept. 16 to sign up, and the winner will be announced on Sept. 21, per Moe's.
Of course, the winner will receive a lifetime supply of Moe's queso. Can you imagine? Sign up ASAP in order to join the fun (and stop by Moe's on Sept. 20 for free dip).