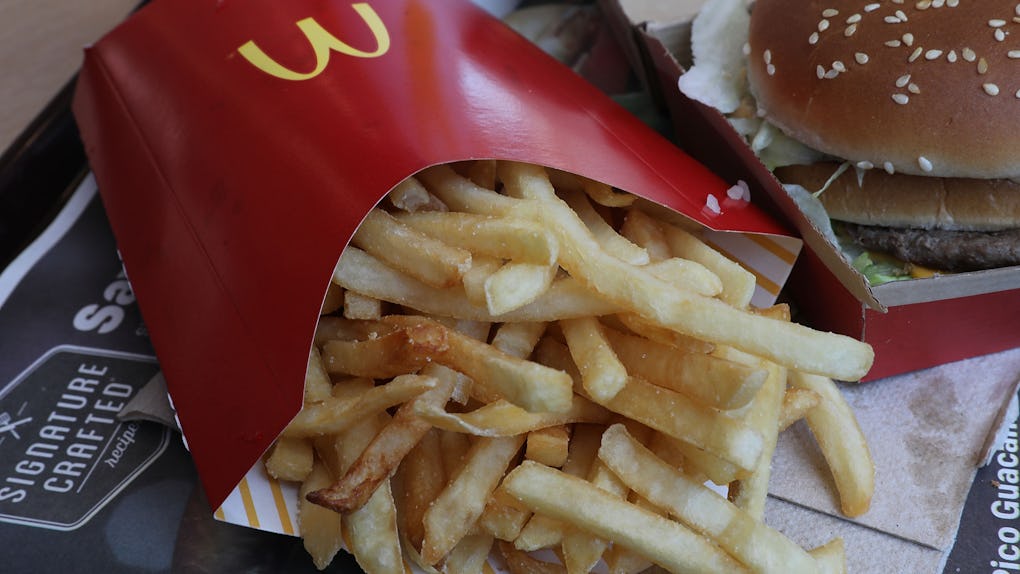 Joe Raedle/Getty Images News/Getty Images
Here's How To Get Free McDonald's French Fries In September For A Tasty Snack
I'm all about a good free food deal, especially when it includes one of my favorite snacks. So, you know I was pumped to hear that McDonald's is offering customers free french fries for a limited time. It's simple to take advantage of, but there are a few things you should know about the deal. Here's how to get free McDonald's french fries in September for a tasty snack.
For the entire month of September 2018, you can get your hands on a free medium order of fries from McDonald's, per Food & Wine. It sounds so simple, doesn't it? Lucky for you, it is. You'll just need to jump through a few very small hoops to get your free order of fries. For starters, you need the McDonald's app. The only way to claim your free order of french fries is by placing a mobile order with Apple Pay using the McDonald's app. The app is available for iOS and Android devices, but the deal states that you need to pay with Apple Pay. If you already have the app, do a quick check to make sure it's up-to-date.
Once you have the app all squared away, it's time to log in. Use your McDonald's credentials or create a new account using your email address and a secure password. Now that your account is established, you're one step closer to enjoying a free medium fry on McDonald's. Before you proceed, make sure you have Apple Pay set up. That's an important step in securing your free order of McDonald's fries. Close out of the McDonald's app and add a credit or debit card to your Apple Pay account.
OK, all good now? Great. There's one more thing you need to know before you chow down. You must add at least $1 worth of food or drink to your cart in order to take advantage of the free fry deal, according to the McDonald's website. In the McDonald's app, you can view the bargain by clicking the three lines in the upper lefthand corner of the app and navigating to "Deals." This tab will open up all of the recent promotions from McDonald's. The free medium fry offer should be one of the first deals toward the top of the page.
Click on the deal and select "Add to Mobile Order." From there, you can set your pick-up details such as which McDonald's location you want to grab your order from and what time. Just make sure you've got at least $1 worth of purchases added to your order and you'll score a $2.39 medium fry for no charge. It's a pretty great deal. After all, free food is the best food.
From their salty taste and crispy texture to the unique smell of fried potatoes, there's no mistaking McDonald's french fries. I don't know what it is about McDonald's french fries that makes them so delicious, but no other fry compares, IMO.
You can enjoy this deal once a day, every day through the end of September. Just remember that this offer only works when you use Apple Pay at checkout on mobile orders. Oh, and like most great deals, this one won't work with other discounts and promotions in the McDonald's app (and there are some good ones).