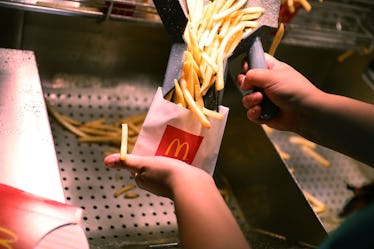 You Can Get Free French Fries At McDonald's This Month & I'm Lovin' It
Joe Raedle/Getty Images News/Getty Images
Mickey D's is serving up your favorite menu item, and it won't cost you a penny when you place your order and pay using the McDonald's app. Are you lovin' it yet? You will have to act fast, though, because the exclusive mobile order deal is only available on Fridays through the end of April. Since the month is halfway over, that means you've got just two days left — Friday, April 20 and Friday, April 27 — to take advantage of the free treat. Here's how to get free french fries at McDonald's this month using the company's app.
First things first, if you don't already have the McDonald's app, head on over to the Google Play Store or iPhone App Store where it is available to download. From there, it's just three easy steps until you've got yourself a hot and tasty lunch from your favorite fast-food chain. In order to score your free medium french fries, here's what you need to do after installing the app.
Register for an account or log in with your current credentials. This can be done with your email, Facebook account, or Google profile.
If you just registered, check your email to click and confirm your account. I know, I know, it may seem like a lot of steps, but have faith, because free french fries will come.
Once you're in the clear, open the McDonald's app and give the app access to your location. This will help locate the closest McDonald's to you. If you don't want them tracking your whereabouts all of the time, select the "only while using the app" option. Type in your zip code and select the McDonald's location nearest you.
Click "Deals" at the top of the main ordering screen to add the coupon to your mobile order.
Bada-bing, bada-boom. You're all set up and ready to use the McDonald's app to score your free medium french fries (a value of $2.39). There is a $1 minimum purchase required to take advantage of the deal (excluding tax), which isn't hard to do at McDonald's. The burger chain offers at least four $1 menu items for you to choose from including a cheeseburger, McChicken, a Sausage Burrito, and any size soft drink. It's even a bargain at twice the price, but the offer is only good once per day. So if you're thinking about lunch and dinner, you may want to phone a friend. Also, I should note that the deal is only available at participating McDonald's stores in the United States. So check your favorite location before your order.
The "world famous" french fries, as they are so affectionately described on the fast-food chain's website, are the perfect side item to accompany anything you order from the Golden Arches. Think about nuggets, a burger, a chicken sandwich, a milkshake (you better be dipping those bad boys in that creamy goodness), oh and how about a side of fries to go with your fries? The options are endless. Yep, the salty fried potato strings are a staple of the Illinois-based restaurant chain, and they just might be my favorite fast-food french fries. But lets be real: Everything tastes better when it's free.
Remember, you only have two more Fridays ("Fri-yays" is more like it, amirite?) to score your free medium french fry order from the burger chain. If you miss out on this french fry freebie, hang tight for another two months, because National French Fry Day is coming up quick on July 13. I've got to imagine there will be more than a few delectable french fry deals to enjoy then, too.