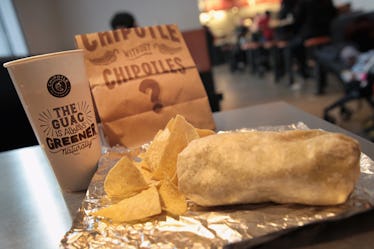 You Can Get Free Delivery When You Order Chipotle Using This App, So Eat Up
Scott Olson/Getty Images News/Getty Images
There's nothing more frustrating than a food delivery fee getting in the way of a delicious meal. Lucky for us, this restaurant delivery service has a quick and easy solution to this problem as old as time. For those craving a burrito this Monday, here's how to get free Chipotle delivery on DoorDash. Enjoy!
There's some terrible things happening in 2018, but food delivery services definitely isn't one of them. Thanks to DoorDash, a restaurant delivery service that will bring your favorite feast right to you, you can now enjoy a Chipotle burrito whenever you want. On April 30, DoorDash announced via Medium that it has teamed up with Chipotle to bring burritos right to our doorsteps. Want to hear even better news? To celebrate the partnership, DoorDash is providing burrito lovers with free Chipotle delivery from April 30 through May 6. The free delivery will be available from 1,500 Chipotles nationwide in locations like Los Angeles, New York City, Atlanta, Miami, and more.
For those who are delivery food connoisseurs like me, you can understand why exactly this is a huge deal. Delivery usually can cost around $5 an order, and that's basically an entire order of guacamole. How can you cop this incredible deal? You can use the code GETCHIPOTLE while ordering your tasty meal and enjoy a Cinco De Mayo feast that won't break your budget.
Do you hear that? That's the sound of me rushing to my computer and typing in that code. How many burritos and burrito bowls will I order? The limit does not exist.
I'm going on record and saying this, Chipotle is everything. The Mexican restaurant chain is known for its packed burritos and burrito bowls, and they're always delicious. However, we might be seeing some changes on the menu sometime soon, since Chipotle might be adding quinoa as an alternative to its iconic lime-cilantro rice. Chris Arnold, a Chipotle representative, spoke to Business Insider about the hipster superfood, and gave us a rundown about all the ingredients.
He said,
The quinoa is made with red and gold quinoa tossed with a little citrus juice, cumin, and freshly chopped cilantro. We are recommending that added to a salad or in place of rice in another entree.
My interest is piqued. I admit that I could actually take a bath in that lime-cilantro rice, but as a millennial, it's also true that my mouth can't help but water when I see quinoa on a menu.
Hopefully Chipotle fans will enjoy this item more than the chain's most recent menu item addition. In September 2017 Chipotle unveiled their much anticipated queso to the public, and even though fans were dying for it, it was met with some divided opinions. Chipotle spokesperson Chris Arnold spoke to Elite Daily at the time about the beloved cheese dip, and explains that customers might not be all the way onboard quite yet because it's not one's typical queso.
He says,
Much of the criticism of our queso stems from elements that make ours different than others (its texture, for example). We decidedly made our queso different than others in that most queso is made with a bunch of artificial ingredients (stabilizers, preservatives and artificial flavors, for example) and that is not something we do. Given the pre-conceived notion many people have about what queso is (and isn't), we knew there would be some who didn't like it based on the simple fact that ours is different, largely because it's not made with artificial ingredients.
Queso drama aside, food delivery services have been popping up in masses over the past few years. From UberEats to Grubhub to Facebook's recent dabble with food delivery, foodies nationwide have a ton of options to choose from when their stomach starts to growl.
Bon appétit everyone!