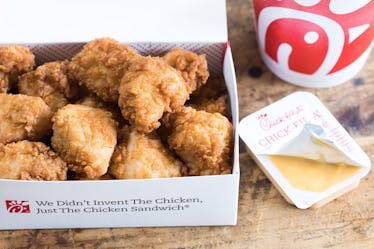 You Can Get Free Chik-Fil-A Through September When You Do This One Thing
In life, chicken nuggets are obviously pretty easy to come by. Free chicken nuggets, on the other hand, are like fairies, mermaids, or jobs that offer dental insurance: no matter how hard you try, they're practically impossible to find. If you happen to be craving some free nuggs in September — and if you're down to add another app to your phone — here's how to get free Chik-fil-A chicken nuggets by simply using the chain's app. It's super simple, completely free, and it's seriously delicious. Just make sure to do it before time runs out, because this offer won't be around forever.
Between Aug. 30 and Sept. 29, you can get not six, not seven, but eight free Chick-fil-A nuggets in a matter of minutes. To do so, start out by creating or signing into your Chick-fil-A One account through the restaurant's mobile app, according to a press release. Then, navigate to one of the 2,300 chain restaurants participating in the giveaway. You'll be able to choose between pressure-cooked or grilled chicken nuggets, and voila! Those eight little nuggs of joy are yours. You can dip them into BBQ sauce, smother them in Buffalo sauce, or even lather them in ketchup. However you'd like to enjoy them is completely up to you.
In a press release, Kaitlyn White, the Senior Lead of the Chick-Fil-A One Membership program said that giving away free chicken nuggets are essentially Chick-fil-A's way of saying "thank you," to customers who have joined the restaurant's mobile app and membership program. To be completely honest, I really wish everyone said "thank you" with free chicken nuggets, because this is seriously life-changing.
In the press release, White said,
We want to thank the millions of customers who have joined Chick-fil-A One on our mobile app, and this is just a small way to show our appreciation for dining with us.
Per the press release, this precious gift from above also honors the restaurant's new membership program, which is super organized and incredibly easy to use. It includes various tiers, such as Chick-fil-A One Member, Chick-fil-A One Silver Member, and Chick-fil-A One Red Member. Customers in each tier earn points for each purchase, and eventually get to redeem free food rewards, as well as a birthday reward. Higher tier customers in Chick-fil-A One Silver and Chick-fil-A One Red Members earn additional points for every dollar they spend, and can gift rewards to friends and family. They can also have Chick-fil-A donate a meal on their behalf to Feeding Children Everywhere, a nonprofit that ships meals to hungry children across the country, so make sure to get on this gloriously philanthropic feature.
Don't get me wrong — I'm all about spending my chicken nugget fund every once in a while. However, when offered free nuggs, why not go for it? TBH, there's nothing better than free food, and you can get them however you'd like by simply downloading the app. So, go out and get 'em before they're all gone.