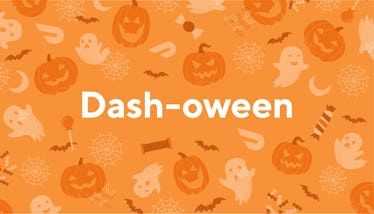 You Can Get A Free DoorDash "Spooktacular Treat" On Halloween For A Scary Good Snack
DoorDash
In case you didn't know, Halloween is all about the treats. As a kid, you probably went trick-or-treating, but now that you're all grown up you probably won't be knocking on anyone's door for a bag of candy. DoorDash, an on-demand courier service that delivers food to your door, is giving customers a complimentary "Spooktacular Treat" from their "Dash-oween Store" on Wednesday, Oct. 31. I'm not totally sure what the delivery company has in store, but you won't be disappointed. Here's how to get DoorDash's free "Spooktacular Treat" on Halloween.
Leave your candy bag at home, because DoorDash is here to deliver you a special (and spooky) treat on Wednesday, Oct. 31. That's right, on Halloween you can get your very own delicious snack from DoorDash for free. The deal starts at 2 p.m. local time on Wednesday, Oct. 31 in select cities in the United States and Canada, according to DoorDash. Before we go any further, I want you to stop what you're doing and add this deal to your calendar right now. Done? OK, good.
If you're ordering a late lunch or afternoon snack, you can tack on a free "Spooktacular Treat" when you place an order using DoorDash. The food courier is launching a special "Dash-oween Store" on Oct. 31. Customers can take a gander through the "Dash-oween Store" using the DoorDash app for mobile phones or by browsing the DoorDash website on your desktop computer. The Halloween-themed treat store will only be accessible to customers in the following markets: Atlanta, Austin, Calgary, Chicago, Denver, Washington D.C., Los Angeles, New York City, Phoenix, San Francisco, and Toronto. (Pro tip: Double check to make sure your DoorDash app is up-to-date on your mobile device, so you don't miss out on a delicious surprise!)
The treat comes in an ominous black bag with a pumpkin orange DoorDash sticker right in the middle. Inside of the bag, you will find your treat. It's unclear what specific treats (or tricks) are included in DoorDash's "Dash-oween Store," but I'm betting the company has something delicious up its sleeves. There's no minimum purchase required to get your Halloween treat, but the offer is only valid while supplies last.
Oh, and how could I forget to mention the bonus treats promotion? It's a super awesome way to give back to those who need it most on Halloween. During the DoorDash's promotion, you will have the chance to donate $1 to Feeding America (and DoorDash will match every donation made during the Halloween promotion). This is a nonprofit organization that is made up of more than 200 food banks responsible for feeding more than 46 million people, according to Feeding America's website. This is all a part of DoorDash's "Project DASH" initiative, which aims to curb food waste and hunger in the cities where DoorDash operates.
Not only can you do a little trick-or-treating from your desk this Halloween, but you can feel good about giving back to others, too. I think it is safe to say that this DoorDash deal is a win-win for everyone.