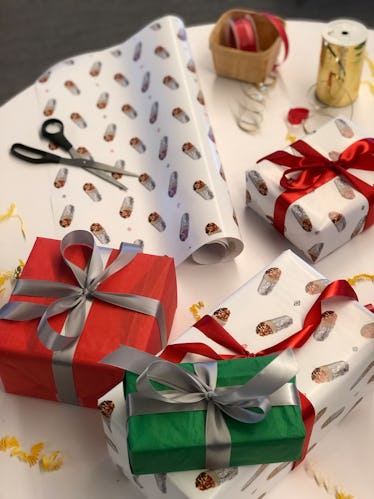 Del Taco Is Giving Away Burrito-Themed Wrapping Paper For A Tasty Holiday Season
Courtesy Del Taco
The holidays are right around the corner which can only mean one thing: shopping, shopping, and more shopping! We spend a lot of time during the holidays trying to find the perfect gifts for our loved ones, but once you find your presents, the real work begins — that is, finding a unique way to wrap and beautify all those things under the Christmas tree. If you've been looking for ideas for your gift wrapping theme this year, save yourself a trip to Target and look no further, because Del Taco is giving away free burrito wrapping paper. Yeah, you read that right. Burrito. Wrapping. Paper. My mouth is watering. Here's how to get Del Taco's burrito wrapping paper and get in on the deal of the year.
To celebrate their newest menu item, the Epic Triple Meat Burrito, Del Taco, a Tex-Mex food chain in 14 states around the country, is giving away a select number of Epic Burrito wrapping paper rolls to a limited number of Instagram followers for free. Just swipe up on the company's Instagram story on Wednesday, Nov. 28 when the offer goes live, and you might be one of the luckily winners. Warm those thumbs up, though, because this offer is only available while supplies last. So in preparation for this holy day, go follow Del Taco on Instagram and keep a lookout for the freebie on IG stories!
Here are some images of the prizes:
So cute, right? This wrapping paper is perfect for all the Del Taco, burrito and food lovers in your life, and it's extra awesome if the holiday present wrapped in the wrapping paper is food-related. The company had been teasing the deal on their Insta story over the weekend:
Free wrapping paper isn't the only way Del Taco is helping us all prepare for the holidays. The Tex-Mex fast food chain is offering a holiday gift card bonus program that gives anyone who purchases gift cards additional coupons for free food. Here's what some of the offers in the bonus program looks like:
Until Jan. 2, 2019, customers who purchase $15 in gift cards in Del Taco stores can receive one coupon good for two free Grilled Chicken Tacos, while customers who purchase $30 in gift cards online can receive one coupon good for one free small size combo meal,
And until Nov. 27, 2018, customers who purchase $30 in gift cards online will get a chance to double their rewards, with two coupons — each good for one free small size combo meal.
That's a lot of freakin' deals and free food for everyone! Barry Westrum, Del Taco's Chief Marketing Officer, told restaurantnews.com:
Del Taco gift cards make the perfect stocking stuffer for friends, family and co-workers who can't get enough of the freshest and most flavorful menu offerings around, like our fan-favorite Grilled Chicken Tacos and our new Epic Triple Meat Burrito ... It's the season of giving, and not only do we want to help our customers with their holiday shopping, but also reward them in the process.
Sounds delicious. Get ready for the 2018 holiday season to be the most burrito-y one yet!