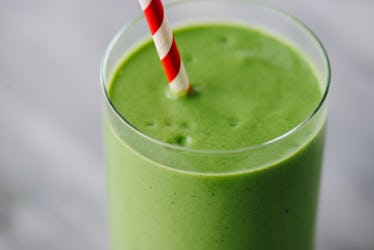 You Can Get A Free Smoothie On National Flip Flop Day If You Visit This Café
National Flip Flop Day is Friday, June 15, and Tropical Smoothie Cafe wants to buy you a drink to celebrate the summertime sandal — and it is all for a good cause. Customers can stop by the smoothie chain any time on the afternoon and early evening to score a free 16-ounce fruity treat, but there's just one thing you will have to do if you want your free drink. Here's how to get a free Tropical Cafe smoothie on National Flip Flop Day.
The warm weather is here to stay, folks. We are just days away from the summer solstice on Thursday, June 21. Try not to melt before the official start of summer by cooling down with a free Sunshine Smoothie from Tropical Smoothie Cafe on the afternoon of Friday, June 15. All you need to do is show up wearing flip flops at any one of Tropical Smoothie Cafe's 600 locations across the nation to pick up your frozen 16-ounce beverage at no cost. That's right: The smoothie is totally free, thanks to your favorite pair of thong sandals. Who knew you could love them so much? The deal is only good from 2 pm. to 7 p.m. local time the day of, so add it to your calendars now. The no-cost Sunshine Smoothie is a mix of summer's most refreshing fruits like mangos, bananas, oranges, and pineapple. It is sure to delight your tastebuds and keep you from sweating in that horrid afternoon heat. No promises on that last part, though.
The freebie also helps to raise money for a charity that is near and dear to Tropical Smoothie Cafe called Camp Sunshine (hence the name of the free "Sunshine" smoothie). Tropical Smoothie Cafe started National Flip Flop Day more than 10 years ago in 2007 to raise money for the charitable organization, and it has been a success ever since. The Maine-based non-profit offers a retreat for children with life-threatening illnesses and their families to escape perils of life and enjoy some quality time together. Since its conception, Tropical Smoothie Cafe has raised over $5 million for Camp Sunshine.
So while you are sipping on your free smoothie, consider paying it forward to Camp Sunshine. Anyone who makes an in-store donation to the organization on June 15 will get a paper sun to color and write on. Your custom-made ray of sunshine — proudly designed by you — will be displayed throughout your local Tropical Smoothie Cafe for everyone to see.
Patrons can also make a donation of $5 by purchasing a Sunshine Key Fob. Not only does your money make its way to a good cause, but you will also get a five percent discount at all Tropical Smoothie Cafe purchases for the remainder of 2018. The discount is valid at participating locations only, but all in all, I'd say that's a pretty great value. Best of all? You can feel good about giving back to others in need.
Since you've already got your flip flops on, you might as well close your eyes while you take a sip of the tropical treat and imagine yourself basking in the sun at an oceanside paradise of your choosing. It's OK if you're sitting at your desk. Take a few minutes to yourself and let your mind wander to the white sandy shores that greet a clear blue ocean. OK, now back to reality — and your free smoothie. Yum.
Rally your friends and coworkers for a late lunch or afternoon snack at Tropical Smoothie Cafe on Friday, June 15 so you all can pay it forward with a free smoothie to boot.