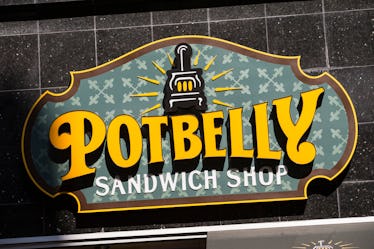 Cancel Your Lunch Plans, Because You Can Score A Free Potbelly Sandwich Today
Andrew Burton/Getty Images News/Getty Images
It's no secret that everyone's favorite sandwich chain, aka Potbelly, has been killing it with the "buy one, get one" deals this month. So, deal hunters might want to clear any and all plans on Wednesday, Sept. 19, because this BOGO deal will make you want to cancel your existing lunch plans and head to your nearest Potbelly locale with a friend in tow. Here's how to get a free Potbelly sandwich and make hump day so much better, because these freebies are only here for a very limited time.
Potbelly, which happens to be the home of some very mouthwatering barbecue pulled pork and chicken salad subs, is making the work week so much better with the promise that you can head out to the rest of your day with one free sandwich in hand. Whether you decide to double-fist two Wrecks, take one Cuban home for dinner, or try to strike up a friendship with a co-worker, Potbelly's BOGO deal is all about doing you and making it just a little easier to get over the mid-week hump. The deal is two sandies for the price of one, or, in other words, you're getting one whole sub for free. Whichever way you choose to look at it, you're getting one great deal and blessing up your Wednesday, thanks to twice the layers of meat, cheese, and bread.
With this limited-time deal, you can be sure that your coworkers will be parading around their double trouble sandwiches when they get back to the office this afternoon. So, here's how to get in on the BOGO deal and avoid all the lunchtime FOMO.
First of all, there are a few caveats to get out of the way before you attempt to secure two bad boys for the price of one. According to the fine print, you must be a Potbelly Perks Members to partake in this deal. This had me stumped for a moment, until I realized that all I have to do to score members-only Potbelly deals is to sign up with my email address. It's so easy, and totally worth the freebies. Per the Potbelly Perks page, each $2 you spend scores you a smiley face, which basically translates to access to exclusive deals. For example, spending $20 on sandwiches (or 10 smiley faces) within the first five weeks of signing up will earn you the opportunity to grab a free treat.
In addition to perks like free food and drinks on your birthday and the ability to score a free cookie with your purchase from 3–5 p.m., there are different levels that you can aspire to hit. You start out as a "Cookie Rookie" before taking things to the next level as a "Sandwich Superstar." A "Menu Master," which requires 250 smiley faces, is the ultimate level. The higher levels grant you access to things like exclusive first tastings and events, and *drum roll* an underground menu full of even more mouthwatering offerings, so it's totally worth racking up those points and signing up.
Unfortunately, the other big limitation is time. Potbelly is only offering this week's BOGO deal through Wednesday, Sept. 19, so I'd cancel any previous lunch plans and make Potbelly your food destination this afternoon. Happy (double) munching!