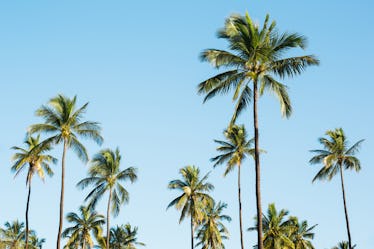 This Company Is Offering Free Flights To Hawaii & You May Be Lucky Enough To Qualify
If the gray and gloomy first few months of the year have had you pining for sunny destinations and dreamy beaches, but you've been deterred by relentless work obligations and endless emails, listen up. A tourism company is making it possible to have your fruity cocktail and drink it too with a contest that'll give you every excuse to go shopping for that cute new swimsuit. According to a survey by the Hawaii Tourism Association, a majority of professionals bring their workloads on vacation with them for a mixture of work and play. Therefore, Hawaii Tourism United States is offering sun-seeking New Yorkers a chance to get a free flight from NYC to Hawaii, Wi-Fi and a luxury stay included. Here's how to see if you qualify to be one of the six lucky contestants up for a week-long sabbatical.
If the thought of parting with your email and turning off your Slack notifications is already giving your withdrawal symptoms, you've got your fair share of company. The New York Times reported via a Gallup poll that 43 percent of Americans spent at least some time working remotely in 2017. More industries have embraced remote positions in response to the desires of an evolving workforce, with a study by Stanford professor Nicholas Bloom finding that working remotely was directly tied to increased productivity and employee satisfaction. Enter Hawaii Tourism United States, which hopes to use its new remote program, "Work From Hawaii," to prove that the elusive work-life balance might be closer than you think (aka relaxing on a Hawaiian beach with a tropical drink in your hand). Maybe your sun-drenched vacation might make you a better employee upon returning to your "real life job" by letting you multitask while enjoying some rest and relaxation.
Here's what's up for grabs: Hawaii Tourism United States will be giving away free plane tickets to six different parts of Hawaii depending on the guest's career specialty, but the perks don't stop with a gratuitous passage and stunning beaches. Travelers will stay at Instagram-worthy work residencies located in Kauai, Oahu, Maui, Molokai, Lanai, and the Island of Hawaii (Big Island), including the luxurious Four Seasons Resort Lanai with scenic views of Hulopoe Beach and the art-centric Surfjack Hotel.
The application process is similar to that of a fellowship or academic residency. Hopefuls will chose a specialty and then fill out sections with their work experience, links to published work, and a public Instagram handle. The contest — which goes until June 4 — is only open to New York City residents aged 24 through 36. It asks applicants to detail what projects they would be working on and explain how remotely working from Hawaii would make them better at their craft.
Hawaii Tourism United States welcomes creative types such as writers, artists, and musicians to apply, along with business entrepreneurs and tech-focused visitors. Each guest will be treated to an individualized Wi-Fi-outfitted workspace complete with complimentary food and a schedule detailing the island's happenings and tourist hot spots. Specialized itineraries include an opportunity to work alongside local artists, craft cocktails, and take a lesson in age-old cultural leadership traditions.
The Work From Hawaii program begins in September 2018, which gives you plenty of time to apply to get your free flight from NYC to Hawaii. Or, for those who simply can't wait, there are a ton of great airfare deals available right now, like these cheap flights to Hawaii that are under $300 round trip. Either way, it's easier than ever to say "aloha" to quality beach time with a Hawaiian shirt and your favorite fruity drink.