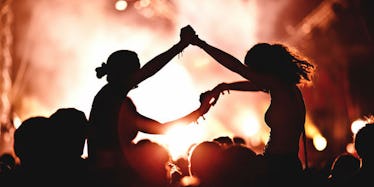 9 Conversation Starters For When You're At A Musical Festival & Feel Flirty AF
You bought tickets months ago and the day is finally approaching. You saved up for the ticket, you bought the cutest outfit, you've been listening to your favorite artists on repeat, but the one thing you didn't prep for is how to flirt at a music festival. Festivals are a perfect place to meet someone: You're usually with friends, or if you're not, it's easy to buddy up to like-minded music fans. In the festival setting, you're feeling a little freer, more fun, and just excited to have a good time. You're likely dancing along to the music and just feeling the ~vibes~ of the festival atmosphere.
For those who need a little bit of help (trust me, I'm right there with you!), flirting at a festival can feel a lot more relaxing than at your standard bar setting. You're excited to see music acts you love, there's typically good food vendors, and you're in your cutest festival-approved outfit. Plus, at bigger show-stoppers like Coachella, you may even have a few celebrity sightings. For your convenience, I've put together a list of flirty ways to approach that person you're eyeing at the festival. Pick which one works best for you, and go get your flirt on.