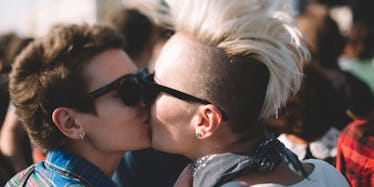 7 Hottest Musical Festival Hookup Stories That'll Completely Blow Your Mind
As a self-identified introvert, claustrophobe, and someone who can generally be described as an "indoors" kind of gal, I haven't really had my fair share of summer festival experiences. The only one I've been to is the Billboard Hot 100 Festival in Jones Beach, New York in 2015. I jammed during Jason Derulo's set, but had to leave early due to some claustrophobia kicking in. While that festival seemed to cater more toward a younger festival audience, if you're wondering can you have sex at a music festival, it can most definitely be done.
Personally, I've never tried to hook up with someone at a festival because the crowdedness alone makes me uncomfortable. I wouldn't be in the best place to get with someone. But depending on your personality type, it can be an alluring place to have some fun. Festivals — especially Burning Man — are notorious for being hookup central. I don't know if it's the music, the dancing, the lights, or the crowds, but hookups seem to just kinda... happen.
I combed through the internet to find the wildest and most unbelievable festival hookup stories. Maybe they'll serve as inspiration for your next festival?