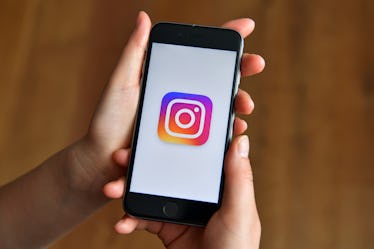 This Cool AF Instagram Feature For Following Friends Is In A Familiar Spot On The App
Carl Court/Getty Images News/Getty Images
Instagram is continuing to up the ante on making social interactions as seamless as possible. If you've ever been subject to that cringey moment when you're trying to add new acquaintances or crushes on Instagram and their handle is just way more complicated than it needs to be, you're going to be obsessed with the social media giant's newest feature, nametag, which is available globally starting on Thursday, Oct. 4. So head to the 'Gram ASAP, because here's how to find Instagram's nametag feature to make connecting with new friends completely effortless.
As of Thursday, all of Instagram's reported 1 billion users can bid adieu to the hassle and awkwardness of manually trying to add a new individual by his or her username or, god forbid, having to repeat your own handle over and over again at a loud party or in a crowded classroom. The point is, no one enjoys these interactions, which is why Instagram is taking a leaf from Snapchat's book with its newest feature. Similar in function to Snapchat's Snapcodes, which the app rolled out in 2015, Instagram's nametags were first tested out earlier this spring. Unsurprisingly, the feature did well, and now Instagram is rolling out the update — which allows you to follow other users simply by scanning a user-specific QR code — globally to all iOS and Android users on Oct. 4, according to a press release.
If you weren't part of the testing phases, you're probably itching to get your hands on the new feature. To find nametag, you're going to want to look in a familiar spot: Your profile. To unlock the update, tap the three lines on the top right hand corner and select "Nametag," which should be the first entry on the list. From there, you can opt to personalize your own QR code by tapping the screen. If you're feeling indecisive, you can select the button at the top, and you will be taken to a carousel of different colors, selfies, and emojis to make your nametag as personal as you want it to be.
Now, let's say you are in one of these aforementioned social situations where you're meeting new people and trying to follow each other on Instagram with the least weirdness possible.
All you have to do is right-swipe on your screen to the camera function, where you can then hover over the "Nametag" button. From there, you can tap your screen, then choose to follow the user or view his or her profile.
Another super easy way to scan someone's nametag is by heading to your own nametag on your profile and selecting the option to "Scan a Nametag." Forgot to get someone's nametag the night before? It's easy to share you nametag through messaging or social media platforms simply by selecting the arrow in the top right hand corner of your nametag icon and then sending it to as many or as few people you'd like to connect with.
So there you have it. Again, nametag is launching globally on Thursday, so I'd take some time now to check it out and personalize your own icon before the weekend hits so that your Friday night mingling can be as effortless and fumble-free as you want it to be.