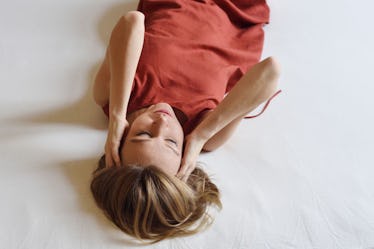 Here's How To Deal With Migraines At Night When All You Want To Do Is Get Some Sleep
As busy as I am with work and grad school, if I have even one night of restless sleep, I'm sure to feel the effects for the next week or so. While I'm lucky enough not to have to deal with migraines, I can only imagine how frustrating it would be to be woken up by that kind of excruciating pain in the middle of the night, or to have to lie down in bed and will myself to sleep through the discomfort. If you're struggling and can't quite figure out how to deal with migraines at night, rest assured, there are ways to find a little relief.
According to Jerry Swanson, M.D., a board-certified neurologist at Mayo Clinic in Rochester, Minnesota, headaches that happen only during sleep are called hypnic headaches. "Hypnic headaches usually awaken a person at the same time every night, but it's also possible to have daytime naps interrupted by hypnic headaches," he wrote in a 2016 article for the medical center. And while these types of headaches tend to be most common in people who are over 50 years old, Swanson explained, it's possible to suffer from this discomfort at a younger age, too. So if you get regular migraines throughout the night, be sure to talk to your doctor about what's going on.
In the meantime, if you wake up in the middle of the night with a nasty headache, or you can't seem to doze off in the midst of your relentless pain, here are some solutions you can try, so you can get back to your peaceful snooze time.