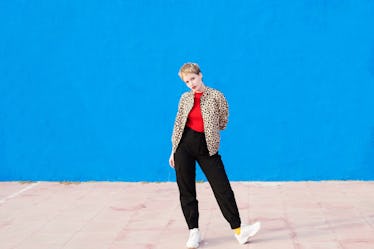 Experts Say Doing These 6 Things Before The New Year Will Bring You Good Luck In 2019
Guille Faingold, Stocksy
I love the holidays — I know, that's probably a cliché, but seriously, I'm excited to build gingerbread houses with my friends, scour the city for the coolest light displays, search for the perfect gifts for my loved ones, and yes, I'm pumped for the new year. There's something magical about knowing a new year is right around the corner; it's a great time to take stock of your life, reassess your priorities, and figure out what, if anything, needs to change come Jan. 1. So, if you want to know how to bring good luck for 2019, experts say you have more control over your good fortune than you might think.
Luck is often thought of as something that you're either born with or not, or even as something that comes your way only by chance, but according to Karla Starr, a public speaker, coach, and author of the book Can You Learn to Be Lucky?, there are definitely a few tangible ways to invite this type of prosperity into your life.
Starr tells Elite Daily that both chance and your own efforts can come together to manifest good luck. "One of the most beneficial beliefs is that every effort will increase your chance of success in love, work, and life," she explains. "It's about being an active participant in your own life and saying yes."
Here are a few ways to cultivate good luck for the new year, according to experts.