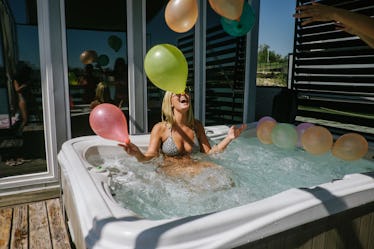 This Company Is Hiring A "Hot Tubologist" To Test Hot Tubs For A Living & I'm In
In my dream life, I own a mansion filled with endless amounts of puppies and pickles. And, most importantly, I get to sit in a hot tub all day long. Instead, I live in a small Brooklyn apartment with none of these things (except for a jar of pickles), and the only kind of tub I have access to is a somewhat dingy shower. But that's fine, I'm fine. However, you can make sitting in a hot tub all day become a reality, because there's a new opportunity in the job market that actually pays you to do just that. Here's how to be a "Hot Tubologist" for Lay-Z Spa so you can get paid to test hot tubs.
U.K.-based hot tub company, Lay-Z Spa, is looking for a passionate hot-tubber to test all of their new products, according to the job posting on their website. You don't have to tell me any more details. I'm in.
Just kidding, I definitely want to know more. To apply, according to the job posting, all you have to do is record a video that explains why you deserve the position as Hot Tubologist. Upload it to Instagram, and make sure to tag the @LayZSpaOfficial handle. The world is your oyster, my bubble-lovin' pals.
Upload your video entry soon, though — you only have until June 10, 2018, at midnight before all entries are deemed "ineligible." Yikes. Set a reminder (or three) for yourself, because you definitely don't want to miss out on this glorious opportunity.
In terms of day-to-day activities, Lay-Z Spa's Hot Tubologist will manage all of the brand's social media activity, while giving each of their products a spin. The pay will include lots of Lay-Z spa items (aka free hot tubs) as well as a check for £500 (which is about $664 USD). Not too shabby, eh?
If you don't snag the position as Hot Tubologist, don't worry about it, seriously. You can still follow other dreamy passions, and become a Chief Taco Officer, for example. That's right — back in April, Tex Mex restaurant chain, Moe's Southwest Grill, was been looking for someone to lead the charge in introducing fans to a new menu item called Three Amigos tacos. The job involved embarking on a two-week tour around the U.S. aboard the company's food truck, handing out tacos, and most importantly, eating tacos. Pay included a roomy budget of $1,000 to spend on "fun things," as well as unlimited tacos. All transportation, flights, hotel, and food would also be accounted for, so it basically sounded like the dream job to me.
If hot tubs and taco aren't really up your alley, though, you could have also applied to become Cadbury's Chocolate Tester. The position, formally titled "Chocolate & Cocoa Beverage Taster and the Chocolate Taster," would take on the duty of tasting new products, and reporting back with honest feedback. Since chocolate is yet another burning passion of mine, this is definitely something I would have considered pursuing. Unfortunately, the company only took applications through Feb. 16, so I totally missed the boat. Oh well, next time.
Despite what people say, there's a dream job out there to pursue pretty much anything. Whether you feel most passionate about sitting in a hot, bubbly tub, eating tacos, or tasting different kinds of chocolate, there are definitely a lot of jobs that allow you to live your best life. Make sure to apply to these as soon as you see them, though — snagging the opportunity to literally live out the dream is competitive AF. BRB, I'm going to apply to be a Hot Tubologist.