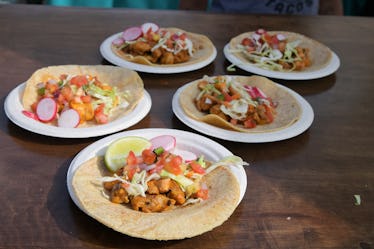 This Mexican Restaurant Is Looking For A Chief Taco Officer & Where Do I Sign Up
Charley Gallay/Getty Images Entertainment/Getty Images
Everyone stop what you're doing right now. Have a job? Quit. Looking for a job? Look no further. Moe's Southwest Grill's Chief Taco Officer job is perfect for those who love to spend their days eating tacos and taking road trips. My body has never been so ready.
According to Travel + Leisure, Atlanta-based Mexican food chain Moe's Southwest Grill is partnering with job search engine Monster.com to find a Chief Taco Officer. Yes, you read that correctly. According to Moe's website, the position is meant to lead the charge in introducing taco lovers to Moe's latest menu items — Three Amigos tacos, and involves road tripping, and of course, eating tacos.
For the lucky taco lover who lands this dream job, that person will be invited on a two-week tour through the U.S starting in Atlanta, Georgia on June 1 as part of the company's first "Taco Tour." The CTO will be riding in complete style onboard the company's food truck. As part of the position, the officer will be handing out tacos to visitors to promote the new menu items, and will be able to enjoy a "fun" budget of $1,000 to spend on everything but tacos. Don't worry applicants, all transportation, flights, hotel, and food will be covered by Moe's, but you have to be 18 or older and live in the United States to apply.
If you aren't completely sold on this job quite yet, buckle up. In addition to traveling across the country, the officer will be able to enjoy an unlimited amount of Moe's Three Amigos.
Yes that's right. Unlimited. tacos.
Applications are open until April 4 until April 20. So how can you land this gig? It's pretty simple. According to Moe's website, you need to sign up on the Moe's app and be a Rockin' Awards Member. Then, pick a social media platform, Facebook, Instagram, or Twitter, and tell Moe's why you'd be the best fit for Chief Taco Officer. (Here's a tip: you can actually enter your name once on each social media platform). Finally, just make sure your post is public and #MoesCTOContest is tagged, and you could be eating tacos for a living.
I may or may not have already put my name in three times.
Bruce Schroder, President of Moe's, released a public statement on Moe's website describing the position a bit more.
He said,
At Moe's, we're always looking for ways to engage with our fans whether it's helping name a new menu item, showing them a behind-the-scenes look into our culinary innovation or just rewarding them for being rock star brand ambassadors. We wanted to take this engagement to the next level and there is no better way to do that than appoint our biggest taco fanatic to Chief Taco Officer and help spread the word about for our newest menu item – Three Amigos tacos.
Want to hear a little bit more about the Three Amigos tacos? Try not to drool too much. According to Moe's Executive Chef Ciarán Duffy, the Three Amigos tacos consist of chicken, steak, and carnitas and "are prepared on fresh corn tortillas and topped with pickled red onions, queso fresco, avocado crema, cilantro and shredded cabbage." Duffy also explained the reason behind introducing the new menu items, saying that Moe's wanted to bring more of a street food style to their menu.
"We crafted the new menu item to maximize the flavors that our fans crave in a unique street-style taco inspired by Southwest cuisine," Duffy said on Moe's website. Um. Yes, please and thank you.
We'll hear about who lands this dream job on May 7 via Moe's Facebook Page, but I know what I'll be dreaming about in the meantime.
After all, any day can be Taco Tuesday if you want it to be.