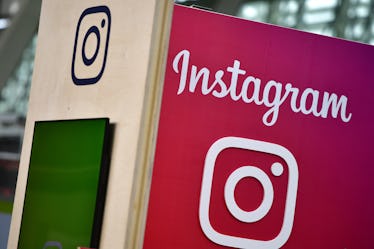 This Underrated Instagram Feature Lets Save Your Deleted Posts & It's Awesome
Alexander Koerner/Getty Images News/Getty Images
I don't know about you, but there are some Instagram posts on my grid that I definitely regret posting. It's not that I'm embarrassed by them; I would just rather keep them out of the public eye. Thankfully, Instagram has a button that'll help you wipe a post off your grid without fully deleting it. It's called the "Archive" button, and it's a total game changer. If you've ever found yourself doubting a post (for whatever reason), you should definitely know how to archive photos on Instagram.
I was about 19 years old when Instagram came out, and I was all about it. I'd take selfies on the regular, snap endless photos of my dog, and play with every filter imaginable. It was great. However, now that I'm trying to create a brand for myself on the app, there are pictures from my past that I'd like to remove from my grid. I don't want to completely delete them, though — and that's where the Archive button comes in clutch.
By using the Archive button, you can save the photos you've chosen to delete from your grid (filter included). Instead of deleting your posts for good, you can have them in one private place where only your eyes can see them. It's pretty convenient, if you ask me.
Now that you know what the Archive button does, let's talk about how to actually use it. The process is fairly simple, and once you know where to look, you'll be archiving photos in no time.
First, head to whichever post you want to take off your grid. Once you're there, hit the "..." button at the upper righthand corner of your screen. Once you press it, a list of options should appear on top of your photo. They'll include Archive, Turn Off Commenting, Edit, Share, Delete, and Cancel. Of course, hit "Archive" to get the ball rolling.
For reference, here's what those options look like:
Shortly after hitting Archive, your photo will be removed from your grid. Don't panic, though: It was sent to the collection of other archived photos in your account.
Since you finally know how to archive your photos, let's review how to find them (it's not as easy as you might think). In order to access your archived photos, head to your main profile. Once you're there, you'll see a tiny "clock" icon in the upper righthand corner of your screen. That's the other Archive button. Click on it, and Instagram will bring you to your archived content.
FYI, here's what the Archive "clock" button looks like:
Once you're officially in the Archive page, you'll see a dropdown menu at the top of the screen that says "Archive." When you press it, you'll see an option to view your archived "Stories" or "Posts." To locate an archived Instagram photo, hit "Posts."
After hitting Posts, you will find a collection of all the photos you've archived from your Instagram grid. The best part about the Archive feature is that you can re-post an Archived photo if you want to. This way, if you accidentally archive a picture, you can undo it. In order to do so, simply press the "..." button on top of your chosen photo, and then choose "Show on Profile."
Thankfully, you can do the same thing with archived Instagram Stories... but, well, that's another story.