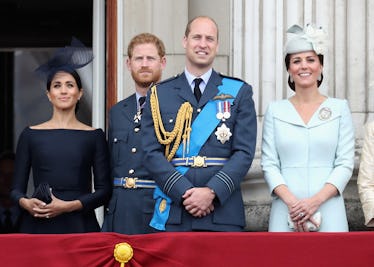 Harry & Meghan's PDA Has Reportedly Influenced William & Kate In A Major Way
Chris Jackson/Getty Images Entertainment/Getty Images
Prince Harry and Duchess Meghan have totally changed the face of the royal family. Their historic marriage and public displays of affection have modernized a number of long-standing traditions and protocols. And it seems that even Prince William and Duchess Kate are starting to modernize themselves — all thanks to Harry and Meghan. The Duke and Duchess of Cambridge have reportedly changed so much over the last several months, that even royal experts are starting to comment on how Harry and Meghan's PDA has influenced William and Kate.
In a recent interview with the Daily Mail, body language expert Judi James explained how William and Kate have changed the way they communicate with each other in public since Harry and Meghan got married. Apparently, William and Kate have been showing a lot more affection in public than they ever used to and James thinks Harry and Meghan are responsible for the big change!
"It's unusual to see William taking the lead in terms of public touch rituals with Kate but on Remembrance Sunday he performed this back-touch ritual, even splaying his thumb out to signal a rather protective form of affection," James told the Daily Mail. "Now that Meghan has joined The Firm, her own determinedly tactile behavior with Harry does seem to have had a profound 'echo' effect on William and Kate's rituals."
So, Harry and Meghan are not only influential all over the globe, but within their own family as well. Amazing stuff! Plus, this proves beyond all reasonable doubt that Harry and Meghan are a seriously powerful couple. If their love alone is strong enough to influence an already established marriage like William and Kate's, then I'm pretty sure they can do anything!
In her interview with the Daily Mail, James also spoke about how Harry and Meghan have essentially set the tone for royal marriage across the board and that the rules many of the royals follow stem way back to Prince Charles' marriage to Princess Diana.
"Normally it's a younger sibling that will mimic or mirror the older, but in Harry and William's case it seems to be William taking his lead from his younger brother and his wife… Diana and Charles created a body language soap opera with some expressive displays of non-verbal behaviour," James explained.
So, how did that affect William and Harry in their relationships? Well, James theorizes that William has tried to err on the side of caution where PDA is concerned. She also thinks that Harry and Meghan have changed the course of that, at least for now.
"William seems to have cautiously erred on the side of bland, with their total lack of PDAs meaning there have also never been signs of rifts, fallings-out or disagreements either," James explained. "When a couple have been married several years it can often take family newlyweds like Harry and Meghan to rekindle some more public displays of romance like this. It worked at an even higher level, too. The recent photo-shoot for Charles's 70th birthday showed Camilla placing one hand on her husband's thigh as they sat together too."
Wow, it looks like Harry and Meghan's unabashed love and devotion to each other have really given the rest of the royal family reason to believe in love again. So sweet!