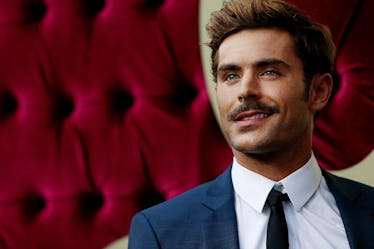 Here's Everyone Zac Efron Dated Before His Rumored New GF & Wow, I'm Jealous
Lisa Maree Williams/Getty Images Entertainment/Getty Images
I'd be lying if I said that looking at photos of Zac Efron didn't make me sweat. And you know what? I'm not even ashamed. I mean, look at the man! What started as a schoolgirl crush from his Disney Channel days has evolved into full-blown, unadulterated love (have you seen his abs?). And even though I sadly have never come across Zac Efron's radar, there have been a few beautiful women who have, and I will be forever envious. If you're looking to know everyone who Zac Efron has dated, look no further, because I've got a full report coming your way.
As I've said, these women are as equally stunning as Efron himself, and he's just as lucky to have dated them as they were to have dated him. Some were full-blown relationships, while others seem to be more like short-lived flings, but all have been tied to Zac Efron in some way. While he's currently rumored to be seeing Baywatch co-star Alexandra Daddario, neither of the two have confirmed their relationship, so let's just pretend Efron is totally single and ready to mingle (it helps me sleep better at night).
And let's not forget that our man is totally ready to settle down, so ladies, if you're looking for a man to commit, look no further. In an interview with Cosmopolitan, Efron spoke about how he's ready to "make somebody else happy." He said,
I didn't think much about settling down until recently. Now that I'm getting closer to my 30s, I'm around some great relationships and I've seen expert couples at work. I'm realizing that you have to find your own happiness before you can make somebody else happy.
Um, swoon?
You're killing me, Zac.
So, let's dive in to all the women who are no longer with Zac Efron, because I am nothing if not petty.
1. Vanessa Hudgens
Do you remember the good old days, when High School Musical was the actual best thing in the world, and Vanessa Hudgens and Zac Efron's on-screen romance turned into something more? The pair got together in 2006 and stayed that way for four years, which is a pretty long run in the Hollywood world. Unfortunately, they announced their split in December of 2010, but noted that their breakup was amicable.
Our hopes of the two ever getting back together were dashed once more in 2017 when Vanessa Hudgens appeared on Access Hollywood and said that she "completely lost contact with him":
A little bit soul-crushing, TBH.
2. Lily Collins
Lily Collins is one of my ultimate girl crushes. Maybe it's her acting chops, but really I think it's her eyebrows. It truly saddens me that my brows will never look as on-point as hers, but that's just an issue I have to deal with myself.
Anyway, moving on.
Efron and Collins reportedly dated on and off from 2012 to 2013, and were seen holding hands at Disneyland in October of 2013. Unfortunately, their relationship fizzled out, but luckily, Lily's eyebrows have stayed forever perfect.
3. Halston Sage
Zac Efron was once again linked to dating a costar, only this time it was Halston Sage, who he worked with on the film Neighbors. Although the two were rumored to be dating in 2014 (hanging out together courtside at an LA Lakers game), they never confirmed whether or not they were actually an item.
Efron did, however, speak to Access Hollywood on the Neighbors red carpet premiere, saying that Sage is "really sweet. She's a sweetheart." But, sigh, this pairing didn't seem to last, either.
Maybe they were both just too good-looking for each other?
4. Sami Mirò
I liked this relationship. Really, I did. Efron and Mirò were first seen holding hands back in 2014, and Mirò, a model, was unabashed about posting photos of her with her new boo. In an interview with PopSugar, Mirò explained that she loved to showcase her relationship on social media. She said,
I'm not trying to hide anything in my life. If I was dating someone who wasn't in the limelight, I might have more photos on [Instagram] of our relationship, but I do think it's important. I mean, it's what is going on in my life, and I think that my social media can still represent that.
Sadly, the couple broke things off in April of 2016, and we saw that Efron deleted all photos of his ex on Instagram and stopped following her account entirely. That makes me think this breakup wasn't super amicable.
And that, my friends, is a brief history of the lovely women who were in Zac Efron's love life.
But listen, Zac: If you feel like you need to date someone less famous, someone with a little less talent, feel free to hit me up. I'll be the girl liking every single photo on all of your social media accounts.
You know where to find me.