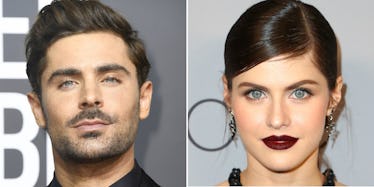 Zac Efron Posted A Flirty Comment On His Rumored GF's Instagram & It's A Lot
Frazer Harrison/Joe Scarnici/Getty Images
Zac Efron might be off the market. *Internet screams in horror*. It's true. The Greatest Showman actor is reportedly dating his Baywatch costar Alexandra Daddario, and he's not doing much to quell the rumors of their relationship. His Instagram comments might be all the confirmation we need that these two are a thing. Zac Efron's comment on Alexandra Daddario's Instagram is flirty as hell, and I'm not saying it's making me jealous, but it's making me feel something.
A source told People that the stars have been a thing ever since Baywatch. They said Efron and Daddario have been "on and off since their time working together on the movie last year, but they are not officially dating." If they're not officially together right now, these Instagram comments are sure making things look like their almost-relationship might be a full-on romance sometime soon.
Daddario posted a photo of herself all glammed up for the Rampage premiere to Instagram on Wednesday, April 4. The photo shows her in a floor-length dress while gazing lovingly at her dog. Honestly, same. Efron commented on the photo saying, "Two hot b*tches." *Spits water* Excuse me?!
Don't even try to tell me that Efron's comment wasn't intended to be flirty as hell. Efron may have never flirted with me before, but I still recognize flirting when I see it!
*Sobs at the fact that I've never even gotten close to meeting Zac Efron.*
Instagram account @commentsbycelebs posted a screenshot of Efron's comment for the whole world to gaze upon.
Alexandra Daddario: Let's keep our relationship quiet for a little because fame. Zac Efron: You know I want you. It's not a secret I try to hide.
But that's not the only Insta comment Efron has referenced Daddario in! Nope, one time he full-on tagged her asking for a date. According to Elle, Efron posted a photo of him and his dog to Instagram on April 4 and he and Daddario had a bit of a flirty exchange in the comments section.
Efron's caption read, "Hey planet, this is MACA. #adoptdontshop." Daddario commented on the post saying, "Angel dog," to which Efron responded, "@alexandradaddario doggie date?" The two apparently did go on a doggie date, as they were recently seen shopping for pet toys together, pups in tow. I don't know about you guys, but meeting the dog is a huge deal for me. Like, if my poodle doesn't like you, we're done. Kaput. It's over. Canceled. So the fact that these two are taking the time to let their dogs get to know one another looks serious AF to me. But hey, maybe they're more casual about dogs than I am. I am famously not casual about dogs, so that would track.
Anyways, the Baywatch costars seem to be chill with people knowing about this fling, whatever it is. Relationships are tricky things to dive into headfirst — you've got to be sure of what you're doing. But also, at the same, this is Zac Efron we're talking about. Zac Efron. The High School Musical Zac Efron. How. Could. You. Not. Be. Sure?
Daddario once talked about the rumored romance in an interview with E! back in May. "We work together closely. He's my love interest in the film," she said. "I understand why people would go crazy over something like that, but Zac and I are very good friends." Welp, until the day comes when Alexandra Daddario and Zac Efron are ready to bring their rumored relationship into the public, we're going to be on official #BAEwatch. (I am so, so sorry.)