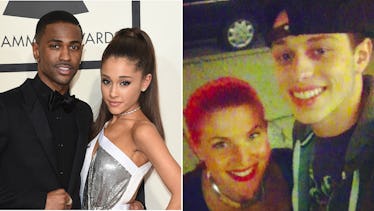 A Brief History Of Everyone Ariana Grande & Pete Davidson Have Dated, & Wow, I'm Shocked
At this point, I think we have all succumbed to the fact that the Ariana Grande and Pete Davidson romance saga isn't going anywhere any time soon. And TBH, I'm not mad about it one bit. In the spirit of giving the people what they want, I think it's safe to say that most of us want to know how this brand new couple fits into their respective dating histories overall. Since this intense love affair seems to have materialized overnight, why not take a walk down memory lane with everyone Ariana Grande and Pete Davidson have ever dated? You know you want to.
For anyone who's been off the grid for the last few weeks, normally I would give you a quick summary of how the relationship between these two developed, but the full story is just as brief as the CliffsNotes version, so here goes. Grande and Davidson started dating in early May and essentially blew up the internet with a bunch of cute and very couple-y 'Grams. Fast forward a few more weeks and a handful of matching tattoos later, and now they're engaged. Yup! That's their love story in a nutshell. So, to get a bit more context, let's take a look at what we know about the pair's respective dating histories.