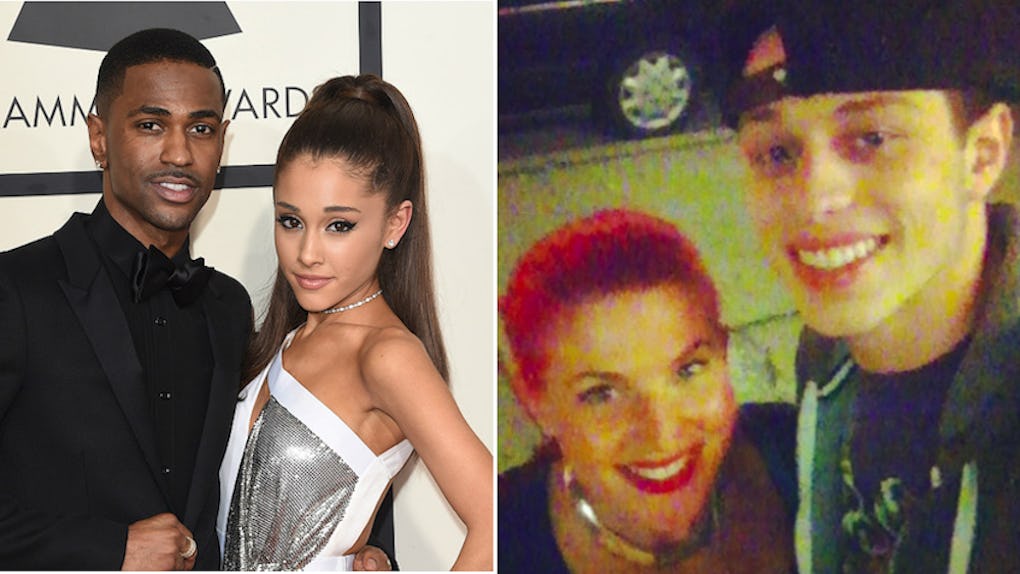 Jason Merritt/Getty Images/ Carly Aquilino on Instagram
Here's Everyone Ariana Grande & Pete Davidson Have Ever Dated, & Wow, #TBT
At this point, I think we have all succumbed to the fact that the Ariana Grande and Pete Davidson romance saga isn't going anywhere any time soon. And TBH, I'm not mad about it one bit. In the spirit of giving the people what they want, I think it's safe to say that most of us want to know how this brand new couple fits into their respective dating histories overall. Since this intense love affair seems to have materialized overnight, why not take a walk down memory lane with everyone Ariana Grande and Pete Davidson have ever dated? You know you want to.
For anyone who's been off the grid for the last few weeks, normally I would give you a quick summary of how the relationship between these two developed, but the full story is just as brief as the CliffsNotes version, so here goes. Grande and Davidson started dating in early May and essentially blew up the internet with a bunch of cute and very couple-y 'Grams. Fast forward a few more weeks and a handful of matching tattoos later, and now they're engaged. Yup! That's their love story in a nutshell. So, to get a bit more context, let's take a look at what we know about the pair's respective dating histories.
Carly Aquilino
While we aren't sure if she was the first person who Davidson ever dated, his first public relationship was with stand-up comedian and Girl Code commentator Carly Aquilino. Not much is known about the couple's relationship and subsequent breakup in 2015, but according to The Daily Mail, they were dating for almost a year.
Cazzie David
Davidson's most high-profile ex is definitely Cazzie David, the daughter of Curb Your Enthusiasm star Larry David. According to TMZ, Pete and Cazzie were dating for almost three years and were allegedly "on a break" for mere weeks when he fell in love with Ariana.
Graham Phillips
Considering Grande's claim to fame came much earlier than Davidson's, it totally makes sense that her roster of public relationships is a bit more extensive. First up on the list is Graham Phillips, Grande's co-star in the 2008 Broadway musical 13. According to Cosmopolitan, Grande and Phillips met while working on the project and then dated for a whopping three years before calling it quits.
Nathan Sykes
Next up for Grande was singer Nathan Sykes of the British boy band The Wanted. Their romance started in 2013 and lasted only a few short months. Even after parting ways, Grande and Sykes have continued to collaborate on a few music projects.
Big Sean
Ricky Alvarez
Grande and Ricky Alvarez's relationship first went public in a 2015 video of Grande licking a donut (#TBT, donut-gate) and then sharing a kiss with Alvarez, the pop star's then-backup dancer. Their donut-licking partnership lasted about a year before Grande ended things with Alvarez.
"She broke up with him," a source told E! News. "He didn't cheat or anything, they just found it difficult to make it work. They are still friends though."
Mac Miller
Last, but certainly not least, Grande had an almost two-year-long relationship with rapper Mac Miller that reportedly ended in early May. While the two seemed to split amicably at the time, after being called out by a fan on Twitter, Grande changed her tune and labeled her relationship with Miller as "toxic."
As you can see, a lot has happened for both Davidson and Grande before becoming an item. While it remains to be seen if their relationship has what it takes to last, it definitely seems like these two have plenty of dating experience to know what it takes for relationships to work long-term. So, we'll just have to wait and see whether or not their speedy engagement is sustainable!
Check out the "Best of Elite Daily" stream in the Bustle App for more stories just like this!