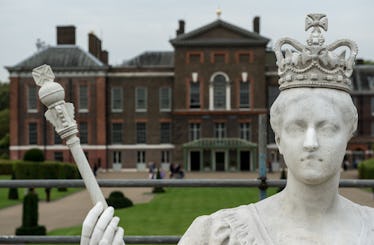 Here's The One Song You Need To Know Before Watching The Royal Wedding
Chris J Ratcliffe/Getty Images News/Getty Images
I'm punch-myself-in-the-face-excited for the royal wedding, which is just two weeks away. (!!!) Somewhere, Meghan Markle is probably undergoing one of the most intense skincare routines known to man. Prince Harry and Meghan Markle will say "I do" on Saturday, May 19, in front of god and everyone in the world during one of the most epic ceremonies of our time. I've been following of the details like whoa. My latest factoid is Britain's national anthem, "God Save The Queen," will obviously be a part of it. Here are the "God Save The Queen" lyrics so you can practice at home and get yourself prepared for the royal wedding.
In summary, it's an ode to — you guessed it — the Queen. Basically, the lyrics are like "Hey, god. Take care of the Queen. She's the best. Keep her enemies away. Help Britain out. Also, mad props to the King, too." According to History Today, the origins of the tune are "lost in obscurity," but the melody and words have been around since 1745. NBD. Also, super fun fact, it shares the exact same tune with the American song, "My Country, 'Tis Of Thee," which should make it easier to remember. The lyrics go a little something like this:
God save our gracious Queen / Long live our noble Queen / God save the Queen / Send her victorious / Happy and glorious / Long to reign over us / God save the Queen
O Lord our God arise / Scatter her enemies / And make them fall / Confound their politics / Frustrate their knavish tricks / On Thee our hopes we fix / God save us all
Thy choicest gifts in store / On her be pleased to pour / Long may she reign / May she defend our laws / And ever give us cause / To sing with heart and voice / God save the Queen
Not in this land alone / But be God's mercies known / From shore to shore / Lord make the nations see / That men should brothers be / And form one family / The wide world over
From every latent foe / From the assassins blow /God save the Queen / O'er her thine arm extend / For Britain's sake defend / Our mother, prince, and friend
God save the Queen / Lord grant that Marshal Wade / May by thy mighty aid / Victory bring / May he sedition hush / And like a torrent rush / Rebellious Scots to crushGod save the King
Here's a look at the song in 2011 during Kate Middleton and Prince Harry's wedding. Everybody (including the two people getting married) belt it out with pride while Queen Elizabeth looks on in her yellow hat like a freaking boss.
No pressure Meghan, but have you been practicing?
To peep in on the massive day, fans (subjects? citizens?) can tune into the royal wedding basically anywhere they can find cable television. All major networks — such as CBS, NBC, ABC, PBS, and BBC America — will have some sort of coverage going on, or you can live stream the wedding on places like Hulu Live. The events kick off at a very respectable local London-time of 12 p.m., which means Americans will need to get up at 7 a.m. ET or 4 a.m. PT to catch all of the action in real time.
I've personally stocked up on party items like Franzia and Doritos and breakfast goods like coffee and eggs, just to cover all of my bases.
This is so exciting — god save the Queen!
Check out the entire Gen Why series and other videos on Facebook and the Bustle app across Apple TV, Roku, and Amazon Fire TV.