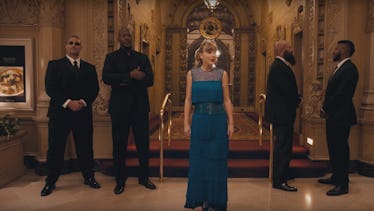 Here's How To Recreate Taylor Swift's "Delicate" Look This Halloween
It's hard to believe that Halloween is just around the corner, but it is, and that means it's time to get your costume sorted for the big day! So many of you out there are searching for the perfect Halloween look. Thankfully, the always stylish Taylor Swift has provided the world with so many awesome costume ideas, so there's a lot to choose from. But the one that tops my list is her look from the "Delicate" music video. I mean, that fringe dress, that hair, the makeup! The whole thing is amazing. So, if you want to glam it up this Halloween here are a few Taylor Swift "Delicate" costume ideas for you to consider.
Dresses
The dress is going to make or break your costume, hands down. To avoid any mishaps, might I suggest the following?
BABEYOND 1920s Flapper Dress, $32.99, Amazon
The BABEYOND 1920s Flapper Dress is just over $30 on Amazon and is actually a pretty close match to Swift's teal fringe dress you see in the video. Sure, it may be slightly more jazz era than you're going for, but for under $50, you can't go wrong.
ASOS ULTIMATE Fringe Layered Mini Dress, $50.00, ASOS
The ULTIMATE Fringe Layered Mini Dress from ASOS gives you a more modern look (and adds a very short sleeve) for a bit of a twist on Swift's look. Unfortunately, it only comes in black, but it's got a lovely sheer mesh at the top and won't break the bank. Definitely worth a look if you're going for Swift's style.
ASOS Fringe & Lace Plunge Bodycon Mini Dress, $42.00, ASOS
Now, if you're looking for something a bit sexier this Halloween, then the ASOS Fringe & Lace Plunge Bodycon Mini Dress is probably right up your alley. It's got a plunging neckline and a racer back, so you'll definitely turn some heads in this dress.
Oh, did you need a refresher on the "Delicate" video? Here ya go:
Jewelry
Swift is wearing some really cute jewelry in the video. Those earrings, especially! Here are a handful of options that could complete your look.
Fashion Crystal Pave Ribbon Earrings, $10.85, Amazon
These ribbon studs are so adorable and they're just over $10! With the right color dress, they could really make your costume pop.
Vintage Retro Style Cluster Earrings, $15.99, Amazon
These little beauties have such a classic feel to them that they'd go with just about any fringe dress. They'd be especially fitting if you were going for more of a flapper vibe than a modern look!
Deluxe Crystal Hoop Earrings, $14.99, Amazon
At first glance, these little hoop earrings look pretty basic. But they're two-toned and would probably match with any shade of teal or blue. So, they're a win no matter which dress you choose for your costume.
Needless to say, there are a lot of choices out there to make this a Best Costume winner at any Halloween party. Plus, you can put it together for a relatively low cost, which is always the goal, right? So, go forth and become the Taylor Swift you've always wanted to be!