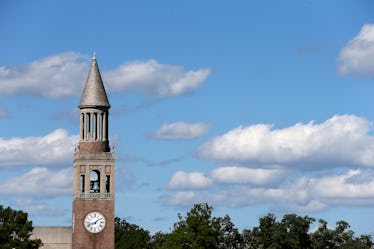 Here Are Some Ways To Help After The University of North Carolina Charlotte Shooting
Streeter Lecka/Getty Images Sport/Getty Images
It's another tragedy. On Tuesday, April 30, two people were killed and several more were injured when a gunman opened fire on University of North Carolina at Charlotte (UNCC) in Charlotte, North Carolina. While gun issues and mass shootings have increasingly become part of the public conversation over the past few years, it never stops being upsetting and horrifying. If you feel the need to take action, here's three ways to help after the UNCC shooting, because there are things you can do.
On April 30, at 5:42 p.m. local time, police received reports that there was an active shooter on UNCC's campus, according to the Charlotte Observer. A few minutes later, students were evacuated from buildings on campus and the school went on lockdown for hours. Two victims, Ellis Parlier, 19, of Midland, and Riley Howell, 21, of Waynesville were identified by authorities as those killed. Four more were injured.
This incident is among the 17,175 incidents of gun violence and 4,522 deaths in the United States so far this year, according to the Gun Violence Archive. The archive counts 104 mass shootings in 2019 alone.
It's difficult to recover from experiencing mass shootings, but there are still ways you can stand up and help out those in need. Want to know what you can do? Here's a list of things that could make a huge difference.