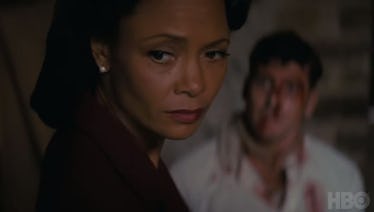 HBO's 2020 Lineup Has Really Changed Due To Coronavirus Delays
HBO
For the last decade, HBO's preview trailers for the coming year have been about one show: Game of Thrones. Fans would grab the trailer as soon as it hit YouTube, analyzing the three or so shots from the coming season as if it were a Zapruder film. But heading into 2020, for the first time in years, nothing Game of Thrones-centered is in the trailer that dropped on Dec. 16, 2019. But fans shouldn't worry, as HBO's 2020 lineup sports no less than 30 shows. There's plenty of programming to look forward to.
And that's not counting the sheer wealth of material HBO can boast about from 2019. The first half of the trailer is a reminder of all the great series HBO already had, including Succession, Euphoria, Big Little Lies, True Detective, and the genuinely stunning Watchmen series. And that's not including the one-and-done miniseries HBO did this past year, including Chernobyl, one of the best shows of 2019.
There was so much non-Game of Thrones related content, there's no footage from the final season at all in the retrospective half. It's out with the old and in with the new, and HBO has a ton of new shows coming.
Check it out. The new footage starts at the 37-second mark.
Unfortunately, 2020 has upended everyone's best-laid plans, and that includes cable networks like HBO. Highly anticipated new seasons for shows like Succession found themselves unable to complete filming the season, due to the Hollywood shutdown in mid-March. That doesn't mean HBO has lost everything. Series like His Dark Materials, for instance, which is being done in conjunction with the BBC, filmed well ahead because of the British production schedule. Others, like Coastal Elites, merely adjusted to circumstances and became a "quarantine" show. But it does mean several fan-favorites will be delayed.
Here are all the shows that are still coming to HBO in 2020.
New Seasons:
Room 104 Season 4
His Dark Materials Season 2
Real Time With Bill Maher Season 18
Last Week Tonight With John Oliver Season 7
New Series:
Lovecraft Country, a new horror series from the mind of Jordan Peele
We Are Who We Are, a teen coming-of-age series
Industry, A drama series about graduates competing for investment banker jobs in a collapsing industry
How To with John Wilson, an unscripted comedy series about an anxious New Yorker who tries to give people unwanted advice.
New Limited Series:
The Undoing, a new limited series starring Nicole Kidman and Hugh Grant
The Third Day, a drama series starring Jude Law and Katherine Waterson on a mysterious island
New Films:
Coastal Elites, a quarantine special starring Bette Midler, Sarah Paulson, Kaitlyn Dever, Dan Levy, and Issa Rae
The Perfect Weapon, a documentary film exploring the rise of cyber conflict between nations
David Byrne's American Utopia, a filmed version of the Broadway production, directed by Spike Lee.
Between the World and Me, a filmed adaptation of the stage play based on Ta-Nehisi Coates' best-selling novel.
The Art of Political Murder, a documentary based on the 1998 murder of Guatemalan human rights activist Bishop Juan Gerardi
Siempre Luis, a documentary on Luis A Miranda Jr., the Puerto Rican who helped shape NYC politics for three decades
The Soul of America, a documentary based on Jon Meacham's 2017 best-selling book, The Soul of America: The Battle for Our Better Angels.
Transhood, a documentary five years in the making tracing growing up trans in the midwest
Baby God, a documentary on Dr. Quincy Fortier, who used his own sperm on infertility patients
Crazy, Not Insane, a documentary diving into the psyches of famous serial killers.
The 2020 Rock and Roll Hall of Fame Induction Ceremony
Shows Delayed Until 2021
Succession Season 3
Barry Season 3
Euphoria Season 2
Los Espookys Season 2
The Righteous Gemstones Season 2
A Black Lady Sketch Show Season 2
Curb Your Enthusiasm Season 10
This article was originally published on