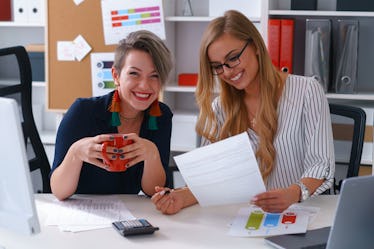 8 Things You Can Relate To If You Have The Cool Boss Everyone Wishes They Had
Even if you've landed your dream job, your boss can really make or break the overall experience for you. A good boss is someone who teaches you new things, pushes you to be even better, and makes going into work on the daily so much fun. You feel #blessed, because that describes your boss to a T. But you don't just have a good boss — you have a cool one, too. Having a cool boss is the difference between work being just a job you go to every day, and instead, a comfortable but also inspiring environment that feels like your home away from home.
You pretty much spend most of your week at work anyway, and your boss really sets the tone for how each day will run. I've had my fair share of good and bad bosses over the years, but it's the cool ones who stick with me forever. A cool boss is not only a role model who teaches you how to be a great leader and mentor, but they also remind you that work can be fun.
When you have a cool boss, you can expect them to do these eight things for you. They really are the difference between pressing that snooze button a few times, and getting out of bed on time and even heading into the office early.