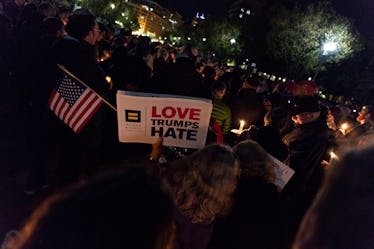 Hate Crimes Have Risen For The Third Year In A Row, Which Is Really Not Good
Alex Edelman/Getty Images News/Getty Images
The political climate these days can be troubling, and it's making a serious impact on a number of communities. While incidents such as gun violence and domestic terrorism have been making recent headlines, hate crimes in 2017 rose for the third straight year, according to an FBI report released on Tuesday, Nov. 13. Just remember everyone, love always trumps hate.
On Tuesday, the FBI released their 2017 Hate Crimes Statistic Report which spotlighted some unnerving results. According to their report, there was a 17 percent increase of hate crimes in 2017 compared to the previous year, with law enforcement departments reporting 7,175 of these crimes compared to 2016's 6,121 instances. In addition, 1,000 more of these agencies have reported these incidents compared to previous years. This marks the third consecutive year that hate crimes have risen in the United States, with 2016 representing the largest single-year increase in hate crimes since 2001, according to FBI reports.
According to their report, nearly 60 percent of these crimes were race/ethnicity/ancestry based, 21 percent religion based, and 16 percent sexuality based. Even though it may not be the largest driving force behind these crimes, there was also a 23 percent spike in religion-based hate crimes, specifically with a 37 percent increase in anti-Semitic crimes in 2017.
Concerns about hate crimes in the United States have been amplified in recent months, particularly following the tragic Oct. 27 shooting at the Tree of Life Synagogue in Pittsburgh, Pennsylvania, when a gunman, reportedly shouting anti-Semitic slurs, killed 11 people. This tragedy inspired people across the nation to speak out against hate on social media and in public protests.
While people all over the nation were mourning the tragedy, President Donald Trump raised serious controversy when he not only chose to attend a Future Farmers of America Convention in Indianapolis, Indiana, on the day of the shooting, but was cracking jokes during his speech. Following the shooting, Mayor Bill Peduto and other Jewish leaders asked that Trump not visit Pittsburgh in the wake of this tragedy, as a visit while funerals were ongoing would stretch police resources (Trump went anyway). In addition, 11 Jewish leaders penned an open letter to Trump demanding he either denounce white nationalism, or he would not be welcome in the city. They wrote,
President Trump, you are not welcome in Pittsburgh until you fully denounce white nationalism ... until you stop targeting and endangering and targeting all minorities ... until you cease your assault on immigrants and refugees ... until you commit yourself to compassionate, democratic policies that recognize the dignity of all of us.
Elite Daily reached out to the White House for comment at the time, but did not hear back.
Since 2016, white nationalism has been increasingly, and troublingly, prominent around the United States. In August 2017, a group of white nationalists gathered in Charlottesville, Virginia, for the Unite The Right rally to protest the removal of a Confederate statue from Emancipation Park, formerly known as Lee Park. The rally soon took a violent turn as riots broke out among alt-right and counter-protesters, which ended when a man drove a car into a crowd of counter protestors, killing 32-year-old Heather Heyer and injuring more than 30 people.
Although the FBI report focuses on specific incidents rather than overarching patterns, an October study by the nonpartisan Public Religion Research Institute found that 54 percent of Americans believe that Trump's words and behaviors have encouraged white supremacist groups. Throughout his campaign, and into his presidency, he's regularly demonized minority groups by referring to them as "rapists" and criminals, and called white nationalists at the Charlottesville rally some "very fine people." The White House did not immediately respond to Elite Daily's request for comment on his statements.
As 2019 quickly approaches, it's important we open the door to discussions around the serious problems of hate crimes and racism within the United States. Hopefully 2018's report will be different.