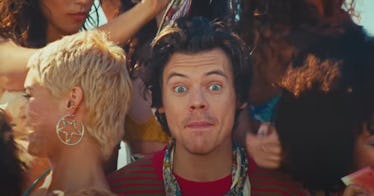 Harry Styles' "Watermelon Sugar" Brings The Summer Vibe You Needed
YouTube/Harry Styles
Who can forget the night Harry Styles debuted his song "Watermelon Sugar" on Saturday Night Live? Just like all the other tracks by the former One Direction member, the summer hit called "Watermelon Sugar" quickly blew up the internet with fan reactions. Harry Styles' "Watermelon Sugar" lyrics are so sensual, and it's a side of Styles you've never seen before.
Styles debuted "Watermelon Sugar" during his Nov. 16 performance on SNL. The rock track's lyrics explore Styles' nostalgia for "that summer feeling," and reveal he's pining for the taste of berries and watermelon sugar. "Breathe me in / Breathe me out / I don't know if I could ever go without," Styles sings, before the chorus in which he repeats "Watermelon sugar high" over and over again. He continues, "I just wanna taste it/ I just wanna taste it/ Watermelon sugar high."
Styles is clearly not hiding his affection for a special someone in "Watermelon Sugar," which got fans speculating about who the provocative lyrics are about. A Directioner on Twitter @cheapbeerok did some sleuthing and found a quote from Style's ex-girlfriend Camille Rowe, in which she listed one of her all-time favorite books was In Watermelon Sugar by Richard Brautigan, which sounds... awfully familiar. In the October 2019 Twitter post, user @cheapbeerok wrote, "So, Harry said a girlfriend gave him books, and Camille Rowe said In Watermelon Sugar was her favorite book. Now Harry has a song called #WatermelonSugar."
Fans might be onto something, since Styles admitted his new music would be about his breakup. Styles told Rolling Stone in Aug. 2019 that their break-up left him heartbroken. He even shared his new music would be about his heartbreak, though he held back from mentioning his ex's name. "It's not like I've ever sat and done an interview and said, 'So I was in a relationship, and this is what happened,'" he said. "Because, for me, music is where I let that cross over. It's the only place, strangely, where it feels right to let that cross over."
Like all good musical artists, Styles has managed to turn his emotional heartbreak into a fully charged song that'll undoubtedly get you jammin' out like there's no tomorrow. Styles released the music video for "Watermelon Sugar" on May 18. The video features the singer and a group of people in swimsuits chilling on a beach, caressing each other, and of course, enjoying watermelon. It's time to kick back, relax, and rock out to the hit of the summer.
Check out the lyrics below so you can sing along!
VERSE 1
Tastes like strawberries
On a summer evening
And it sounds just like a song
I want more berries
And that summer feeling
It's so wonderful and warm
PRE-CHORUS
Breathe me in
Breathe me out
I don't know if I could ever go without
I'm just thinking out loud
I don't know if I could ever go without
CHORUS
Watermelon sugar high
Watermelon sugar high
Watermelon sugar high
Watermelon sugar high
Watermelon sugar
VERSE 2
Strawberries
On a summer evening
Baby, you're the end of June
I want your belly
And that summer feeling
Getting washed away in you
PRE-CHORUS
Breathe me in
Breathe me out
I don't know if I could ever go without
CHORUS
Watermelon sugar high
Watermelon sugar high
Watermelon sugar high
Watermelon sugar high
Watermelon sugar
I just wanna taste it
I just wanna taste it
Watermelon sugar high
TAG
Tastes like strawberries
On a summer evening
And it sounds just like a song
I want your belly
And that summer feeling
I don't know if I could ever go without
CHORUS
Watermelon sugar high
Watermelon sugar high
Watermelon sugar high
Watermelon sugar high
Watermelon sugar
I just wanna taste it
I just wanna taste it
Watermelon sugar high
I just wanna taste it
I just wanna taste it
Watermelon sugar high
This article was originally published on